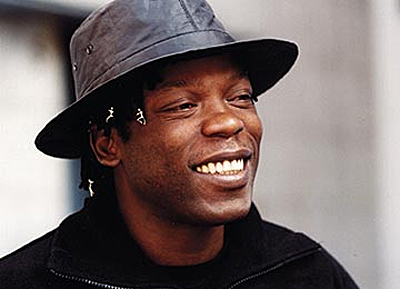 Jorge Da Silva Bidinte – a multi-faceted musician: composer, vocalist, guitar player, percussionist – represented one of the most genuine voices coming from the mingling of Creole and mixed-race cultures in Guinea-Bissau (West Africa).
Bidinte was born and brought up in Boloma, a small port city in the Bijagós Islands, whose streets, docks and daily life were constantly permeated by music. When the time came for Bidinte to start secondary school his family moved to Bissau where they happened to settle in the Ajada neighborhood, the meeting point of musicians from all over the city.
In 1978, Bidinte took part in the Youth Festival of Havana (Cuba). A decade later he traveled to Lisbon (Portugal) to play for a conference of journalists, where he met a group of musicians led by Justino Delgado, together with whom he set up a new band, Docolma, and made three records. Bidinte was invited by a nightclub to give several concerts in Madrid (Spain) in 1992. "I immersed myself in the night life, absorbing flamenco music, a music which I feel deeply attracted to," said Bidinte as he described his experience in the Spanish capital. He decided to stay and settled in Madrid.
This is how he has achieved and developed a stimulating fusion between Afro-Portuguese rhythms, the Guinean gumbé, and flamenco sounds. After collaborating in Spain with other artists as a percussionist, composer and singer, Bidinte has made his way into the recording studio to present his own music.
Kumura, his first album, was realized thanks to Bidinte's musical talent, bottomless creativity – encouragingly praised by David Byrne, who was present at the recording sessions -, and the invaluable contribution of artists such as Jorge Pardo, Paco Cruz, Camillo Edwards, Pap N'Diaye, Edú Nascimento and Dino del Monte.
During his final years, he lived in Almendralejo (Badajoz), Madrid and Guinea Bissau, where he led music workshops for children and brought musical instruments donated by his Spanish friends.
Bidinte died in 2015 of a heart attack. His daughter Alana continues the family tradition as vocalist in the acclaimed Madrid band Cosmosoul.
Discography:
Kumura (Nubenegra, 1999)
Iran Di Fanka's (Nubenegra, 2001)