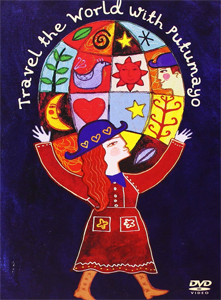 The first in a series of DVDs, Travel the World with Putumayo features music videos and concert performances by some of the label's favorite artists filmed on location in India, Brazil, Senegal, Cuba and beyond. Known for creating collections of international artists for the past decade, Putumayo has uncovered videos and live performances which are sure to appeal to audiences of all ages.
With few broadcast outlets, most of these videos have never been viewed outside their country of origin. The video for Ricardo Lemvo's Afro-Latin hit Mambo Yo Yo was filmed in Havana, Cuba and captures the city's vibrant energy.
Czech gypsy singer Vera Bílá's Pas O Panori video transports the viewer to a rustic Eastern European Gypsy village. Senegalese band Tukuleur's Afrika features majestic shots of the West African landscape and scenes filmed on Goree Island, an infamous transfer point during the slave trade.
Egyptian singer Hisham Abbas' Nari Nari features colorful Bollywood-style choreography, striking cinematography and was filmed in the shadow of the Taj Mahal in India. Bidinte, from war-torn Guinea-Bissau, offers a moving song about the impact of war on children and families.
Travel the World with Putumayo also features videos from Brazilian artists Chico César and Rita Ribeiro, Oliver Mtukudzi from Zimbabwe, Senegal's Touré Kunda, Nigerian band Kotoja, Canadian Celtic singer Mary Jane Lamond and the French-Argentinian electronic tango ensemble Gotan Project. Ten of the twelve featured videos are of songs found on Putumayo albums.
As an added bonus, Travel the World with Putumayo includes Oliver Mtukudzi's Hear Me Lord filmed live at a nightclub in Zimbabwe, and a powerful concert performance of Habib Koité's Wassiyé filmed in Huy, Belgium.
Each music video and live performance is viewable with complete subtitles in English, Spanish, French or German, enabling viewers to better understand the songs and their meanings. Also included are insightful biographies of each artist and a short documentary about Putumayo World Music's history.
Buy Travel the World with Putumayo.