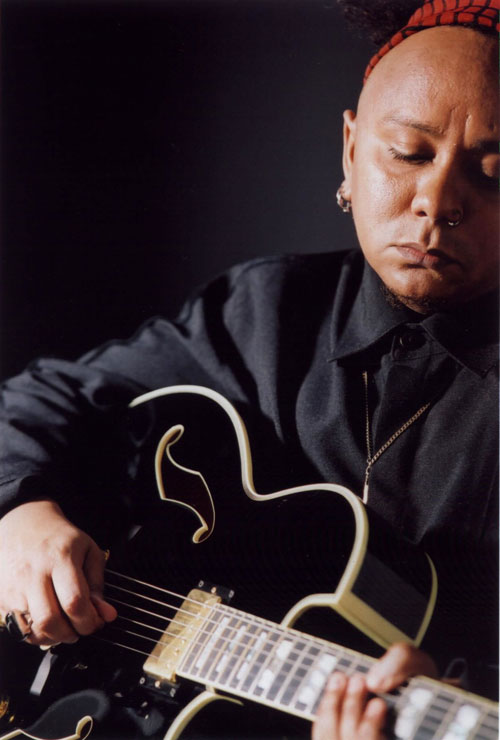 A brilliant performer and songwriter, Chico César creates unforgettable contemporary music based on the contagious melodies and rhythms of Brazil. Aos Vivos is a wonderfully rare and intimate recording that launched the career of Chico César as one of Brazil's top singer-songwriters. Self produced and recorded live with special guests Lenine and Lenny Gordin, Aos Vivos is a unique journey inspired by the rhythms of Northeastern Brazil.
Francisco (Chico) César Goncalves was born January 26, 1964 in Catolé do Rocha, Paraíba, in Northeastern Brazil. Music was always an integral part of Chico's life and existence. César's musical education began at age 8. He learned to play the recorder while working in a record store. As his musical interest and talent increased, he began to study more seriously.
He finally made the decision to move to Sao Paulo where he could concentrate on his career as a musician. His innovative style and country background were at first a hindrance to César. He was banned from playing at the more fashionable venues in Sao Paulo yet his style was too original for the traditional forro dance clubs. This never discouraged him.
His originality and Northeastern background became the leading factors that distinguished César from other musicians and placed him among Brazil's leading MPB musicians. César's first album Aos Vivos, was a huge success. César immediately became one of the most requested artists in MPB, selling out concert halls and topping the radio charts.
Popular artists such as Daniela Mercury, Zizi Possi and Elba Ramalho have all recorded his music. In Aos Vivos, César pays tribute to his roots with "Paraiba," a tune written by Gonzaga and Teixeira that tells the story of a woman's courage and the monotony of her life after her man travels south in search of work. "Alma noa Tem Cor,"(soul has no color), by Karnak's Andre Abujamra is the only other tune of 15 written by a composer other than César.
Chico César became nationally and internationally known in 1996 with the song "Mama Africa". The music video won the award for "Best MPB Music Video" in MTV Video Music Brazil (VMB) in 1997 and is considered one of the milestones of MTV Brazil.
In 2007 he participated in the film Paraíba, Meu Amor, by the Swiss filmmaker Jean Robert-Charrue, whose theme song is his own.
Chico César took office of the presidency of the Cultural Foundation of João Pessoa (Funjope) in May of 2009. From January 2011 to December of 2014 he was Secretary of Culture of the state of Paraíba.
Discography:
Aos Vivos (Velas, 1995)
Cuzcuz-Clã (Polygram, 1996)
Beleza Mano (Polygram, 1997)
Mama Mundi (2000)
Respeitem meus cabelos, brancos (2002)
De uns tempos pra cá (2006)
Francisco, forró y frevo (EMI, 2008)
Estado de Poesia (2015)
Website: www.chicocesar.com.br