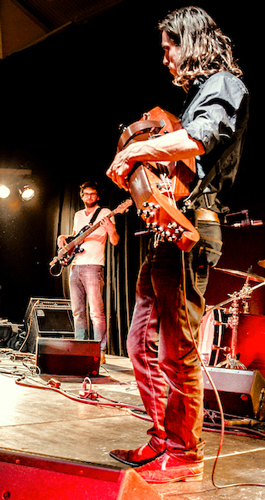 Harald Bauweraerts grew up in a musical family and therefore had the opportunity to learn to play the hurdy gurdy at the very young age of 8.
By the age of 16, he performed regularly in pubs, restaurants, and at all sorts of other outdoor events at various locations.
Shortly afterwards, he started working together with the folk music groups Twalseree, AedO, and Lais as a guest musician. In the meantime, he was developing a strong interest in electronic and computer music and an opportunity soon arose to let his Denis siorat-built electro-acoustic hurdy gurdy (draailier) loose in public, albeit sometimes with a distorted sound.
These performances were not limited solely to the groups mentioned above, but from that time onward, he began to enjoy increasing success with other projects too such as Orgamusa, Midwinter concerts, Het Geluidshuis, Magister, Belgian Plastiks, Eurosong 2008 (Geena Lisa), Triple-XL, Beatball, and folk group EmBRUN.
Discography:
En Route, with Aedo ‎(2004)
Embrun (2006)
Embrun – N° 2 ‎(Appel Rekords, 2009)
Embrun N° 3 Live (2013)