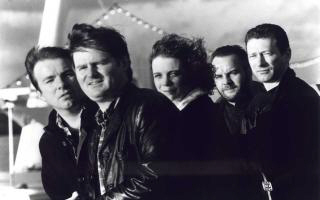 Shantalla is a Belgium-based band formed by several Irish musicians and one Scot. The band was created in 1995 by two members of an Irish band called Sean Talamh (Gaelic for 'old ground' or 'old country', meaning Ireland). Kieran Fahy and Michael Horgan teamed up with Gerry Murray and Joe Hennon (guitar) and decided to use a name that was easier to pronounce in English so they used Shantalla. They were later joined by Scottish singer Helen Flaherty.
The group's first album was recorded in 1998 for the Belgian label Wild Boar Music and distributed in many countries by Green Linnet.
The band:
Kieran Fahy – fiddle. Kieran had classical training and is an All-Ireland slow air fiddle champion. He won the first O'Carolan competition in Keadue. Kieran has released two solo albums and toured the USA with Duck Baker.
Helen Flaherty – vocals and bodhrán. Helen has a background in singing Scottish and Irish songs. She recorded with Mairtin Tom Sheainin MacDhonncha on his Blath na hOige album.
Joe Hennon – guitar. Joe is rock a musician that converted to traditional Irish music. He leads the young music group Clann Lir
Michael Horgan – uilleann pipes, flute, whistles. Michael has played with La Lugh, Mary Bergin and several other artists. He is involved in the recording of soundtracks and sessions with successful Belgian artists.
Gerry Murray – accordion, bouzouki, mandolin and whistles. Gerry is a twice Slogadh All-Ireland Champion. Before he left Ireland in the 1980s, he was a prominent music teacher in the North Monaghan area.
Discography:
Shantalla (Green Linnet, 2000)
Seven Evenings Seven Mornings (Wild Boar, 2001)
Turas (Appel Rekords, 2011)