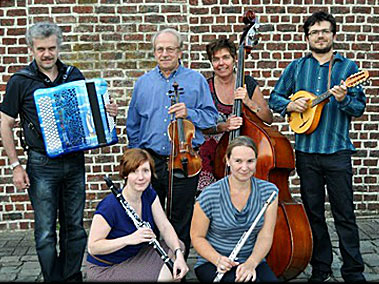 Limbrant, noted for its pure approach to Flemish music, is a six -member ensemble under the direction of Hubert Boone, one of the pioneers of the Belgian folk music revival. Many of the innumerable songs and dances he collected in Flanders are in the group's repertoire.
Limbrant's program includes early ballads, love songs, and historical songs; dance melodies – polkas, mazurkas, waltzes, contredances, and lively schottisches – which were imported from other regions and gradually assimilated into the Flemish folk culture; pieces from the bal musette repertoire; and original compositions.
Hubert Boone plays violin and Flemish bagpipe. The lineup has varied throughout the years.
Discography:
Limbrant (Etna)
Alezi (Etna)
Danskens- Arguèdènes, with the Walloon brass ensemble Á Râse dè Têre
Brabantse danstradities [Brabant dance traditions] (Etna, 2013)