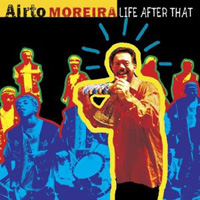 Airto Moreira – Life After That (Narada 70876-18077-2-1, 2003)
Babatunde Olatunji – Healing Session (70876-18132-2-7, 2003)
Airto Moreira and Babatunde Olatunji both have solidified reputations as master percussionists, trailblazers in the percussion realm and pioneers of global music. They teamed up from time to time as well, on each other's projects and on such milestones as Mickey Hart's Planet Drum album. Olatunji's death earlier this year marked the passing of a true legend. I'm betting it's more than a coincidence that his first posthumous album is emerging at the same time as a new release from Airto (on the same label, no less), but speculation on that point is far secondary to the fact that we have two stunningly good percussion-based discs here.
There's nothing Airto Moreira can't do with percussion. In decades of solo and group work with jazz fusionists, experimental musicians, rock and rollers, traditionalists and beyond, he's been able to take even the most deceptively simple-seeming gadgets and make magic with them. And no wonder. He grew up in Brazil, land of imported African beats and a place where the rules of percussion have been rewritten repeatedly. Nonetheless, Life After That is a surprising stunner even for Airto. Some of his work has been more about creating moods and environments centered around percussion and vocal sounds than conventional drumming pieces, but this latest is the best of all worlds. It's a near-perfect balance of feverish drum jams, rhythmic soundscapes, brilliant symbiosis of melody and beat and lots of just plain fun. Smack dab in the middle is ten minutes of Airto soloing on the Brazilian tambourine known as the pandeiro, and before and after that such guests as fellow percussionists Giovanni Hidalgo and Michito Sanchez, vocalist Flora Purim (Airto's wife) and didgeridoo specialist Stephen Kent add to the festivities. A smattering of guitars, bass, piano and winds sometimes adds refinement, but this is a percussionist's utopia through and through. Still, global music listeners across the board are likely to groove to what's here, be it the Olatunji tribute, the sprawling "Ritmo Do Mundo" or the human beatbox-with-Jamaican-accents track "Let It Out Let It In," which my kids have lately been singing around the house quite a bit.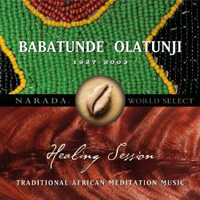 The words "healing session" could be applicable to just about everything Olatunji did in his life, given the shamanic quality of a performing, recording and teaching career that began with the unprecedented success of his Drums of Passion album more than 40 years ago. Some of his discs were pure percussion, some added other instruments for a more fusion-geared sound, and he too collaborated with many notable music makers in his day. Longtime fans may be taken aback with the relatively low-key Healing Session, especially if it's the hard, fast, intensely polyrhythmic Olatunji they're used to.
The intricacies of layered African percussion are present, although the slower, unfolding nature of the tracks show an intimacy and meditative aura not often associated with Olatunji's sort of drumming. But it works, wonderfully. Steady, hypnotic beats are embellished with further rhythms that both comply and contrast, taking their time to build to blissful convergences of percussion and chants that seem to sway in and out of some misty, otherworldly place. If that description sounds like new age blather, forgive me. The track-by-track specifics in the liner notes (written by Olatunji himself) state the case much better. Suffice to say that this cd has the same sort of depth as the mystical music created by, for example, similarly inclined indigenous peoples and Gregorian monks- longing, hopeful, reassuring, ultimately striving to make this world a more beautiful place. Immerse yourself.
Author:
Tom Orr
Tom Orr is a California-based writer whose talent and mental stability are of an equally questionable nature. His hobbies include ignoring trends, striking dramatic poses in front of his ever-tolerant wife and watching helplessly as his kids surpass him in all desirable traits.