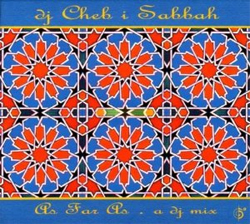 dj Cheb i Sabbah
As Far As (Six Degrees Records)
dj Cheb i Sabbah has returned with a recording that blends organic instrumentation along with dance club consciousness. Sabbah's latest release, As Far As, features stellar international talent including Natacha Atlas, jazz trumpeter Don Cherry and the Asian Dub Foundation. However, it is the lesser known artists that shine forth on this recording. Trilok Gurtu's Have We Lost Our Dream possesses soaring vocals and a tapestry of African instrumentation.
Malian Sekouba Bambino offers the uplifting Sinikan and Sangoma, Suzan Hendrick & the Traditional Healers give us feisty call and response vocals along with juicy polyphonic drums, Ngihawukele Thonga Lami. Don Cherry plays a muted melody along with ritual style drums resulting in a jazzy samba, Audio
Letter. And the crowning jewels here are Solace' Saptak, floating through Arabesque ambience and Sabbah's Hari Om Narayan with its devotional Indian vocals hovering over sitar and drone instruments.
As Far As is another travelogue album that spans three continents, featuring gorgeous instruments and nine languages while immersing its listeners in exotic sounds from North Africa, India and Africa. This fits nicely with Six Degrees Record's mission statement, "dedicated to bringing you the best in traditional and contemporary musical excursions from around the world." It's always a good sign of the times, when a company is dedicated to a mission and delivers what it promises. And if you are unable to travel this summer, this CD is the next best thing. For more information on dj Cheb i Sabbah
(Formerly published on Cranky Crow
World Music).