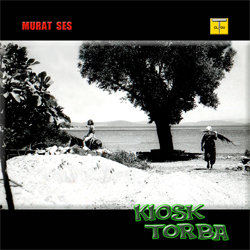 Murat Ses, the Turkish-Austrian keyboard player and presents his brand new album "Kiosk Torba" released on Clou Records (Clou-012) on August 22, 2014.
Kiosk Torba is a brief musical summary of a place that has existed for more than half a century. A place with a pulsating natural setting of groovy crickets, Eurasian birds, olive trees, fig orchards, dogs (Osman and the Gang!), cats, and full of good spirits; the people of Bodrum. There is a long who's-who-list of earlier Turkish music scene; of those pioneer musicians of earlier decades who visited that place, stayed and discussed about new ideas.
Kiosk Torba incorporates a myriad of cross-cultural elements and all these not only limited to Anatolia (such as Pinoy and Naija). Asian, African, Pacifica sounds combined with zurna sounds and melodic organ solos (with an Anatolian touch for sure) plus vocals from all over the world (New5ense, Enty3way aka Black Money and others).
Seven impressive tracks in sum: Cats in the Hood, Eurasian Blackbird, Jay Comb and the Kids, Kiosk Torba, Satin Olive Tree, Tombik the Bumblebee and What a Day.
As creator/originator of the Anadolu Pop style (founder of Moğollar in late 60s*) a synthesis of Anatolian Music and Western elements that has been influencing the Turkish music scene for decades, he concocted a more progressive style he dubs as Anadolu Pop 2.0 or Electric Levantine, more accessible to global audiences. Eleven solo albums in sum have been released by the US label Clou Records since 1990.
Post-production and ArtWork by OpBe aka Nihal Ses.
Available from amazon and iTunes
For more information check: http://www.muratses.com and http://www.clourecords.com
Further reading on Murat Ses, his bio and his unique styles Anadolu Pop and Electric Levantine: Murat Ses and wikipedia.org/wiki/Murat_Ses
* Moğollar is a registered trade mark by Murat Ses