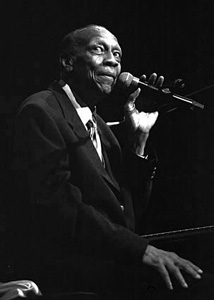 (Prensa Latina – Cumbancha) – Córdoba, Spain – Pianist Bebo Valdés, 85, one of the legends of Cuban music rescued by recording companies, is preparing four new albums. The first CD will be released soon and features the Uruguayan violinist Federico Britos. "I will never be able to retire, I think I'll die playing the piano," the Cuban musician said in an interview.
Considered one of the forerunners of Latin jazz, he performed this week at the Gran Teatro of Córdoba, in southern Spain, along with Diego "El Cigala."Valdés' piano accompanied the flamenco voice of "El Cigala" in Cuban boleros such as "Veinte años", "Vete de mí", a song that another Cuban pianist, Bola de Nieve, made popular in the 1950's included in the album Lágrimas Negras, recently produced by Spanish moviemaker Fernando Trueba. However, Trueba had already "rescued" Bebo on his film Calle 54 in 2001, after 30 years out of recording studios. Since then, rumors started that the pianist joined a long list of Cuban musicians who return to stage and became famous when they were older than 80, as it happened to Compay Segundo, who rolled cigars for decades at the prestigious Havana cigar factory H. Upmann, until Ry Cooder called him to take part in Buena Vista Social Club.
The list also includes Ibrahim Ferrer, Omara Portuondo, the Vieja Trova Santiaguera, Israel "Cachao" López and now Bebo Valdés, "a peasant," as he defined himself, who directed the famous
Tropicana cabaret during the 1940's.