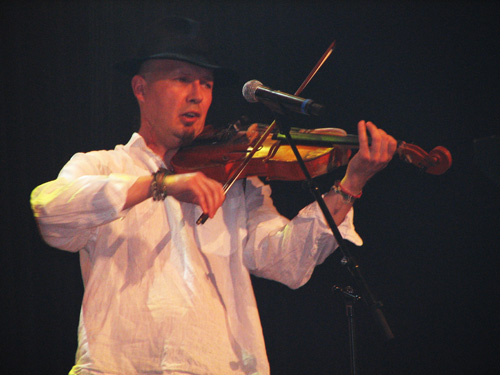 Tomasz Kukurba was born in Cracow, Poland in 1969. He started playing the violin in elementary school. At the age of ten he sang in the Cracow Philharmonic Choir and toured Germany and France, performing the works of Krisztof Penderecki.
During his time in high school, at the age of fourteen, he started to play the viola, which became his main instrument. Kukurba worked with the avant-garde jazz ensemble Mixtura. Like the other members of Polish band Kroke he studied classical music at the Music Academy of Cracow.
He was member of the Academy's String Quartet and various other chamber orchestras, playing primarily the music of Penderecki, and joined, along with Tomasz Lato, the Sinfonietta Cracovia and an experimental jazz group.
Discography
* Klezmer Acoustic Music Trio (Oriente Musik, 1996)
* Eden (Oriente Musik, 1997)
* Live at The Pit (Oriente Musik, 1998)
* The Sounds of the Vanishing World (Oriente Music, 1999)
* Ten Pieces To Save The World (Oriente Music, 2003)
* East Meets East (EMI classics, 2003)
* Quartet – Live At Home (Oriente Music 2004)
* Seventh Trip (Oriente Music 2007)
* Out of Sight (Oriente Music 2009)
Live in Førde, with Tindra (Talik, 2011)
* Feelharmony (EMI Music Poland, 2012)
* Ten (Oriente Musik, 2014)
* Cabaret of Death: Music for a Film (Oriente Musik, 2015)
* Traveller (Universal Music Polska, 2017)
* Kroke 25, The Best Of (Universal Music Polska, 2018)