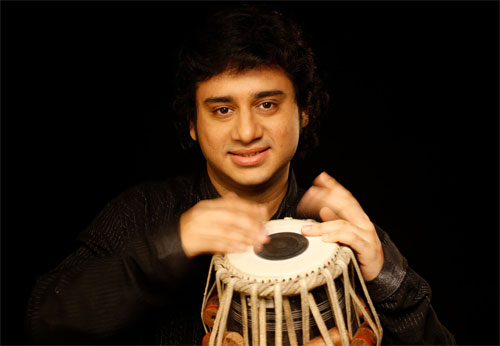 Indian tabla player Aditya Kalyanpur was born July 21, 1978 in Mumbai, India. A student of the legendary late Ustad Alla Rakha and today of Ustad Zakir Hussain with whom he has collaborated and performed for many years now. Aditya Kalyanpur is well known in the west for his solo performance during the Rolling Stones concert held in Bombay and for the recording collaboration with their saxophonist Tim Ries. He has participated in some important festivals in India and abroad.
He's recorded with John Beasley ("American Idol" music director), performed with GRAMMY-winner John Popper at the prestigious Carnegie Hall NYC, and Founded the New England School of Music in Boston, MA, as well as established the Shyamal Music Foundation in Mumbai, India – a non-profit created to promote, preserve and propagate Indian classical music by giving a platform to the next generation of talented musicians.
Aditya Kalyanpur is currently a member of the fusion group Tihai.
http://www.adityakalyanpur.com