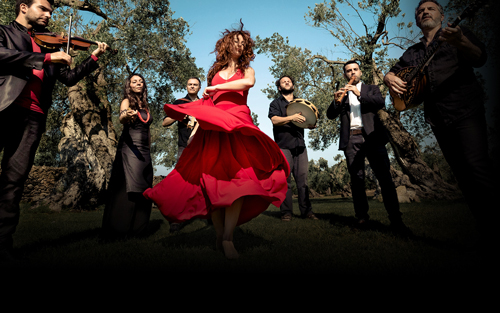 Renowned Italian band Canzoniere Grecanico Salentino was created by writer Rina Durante in 1975. It is one of Italy's most reputable and longest-standing traditional music ensembles.
Canzoniere Grecanico Salentino comes from Puglia in the Salento, in southern Italy. The lineup consists of a seven member band and a dancer.
The ensemble recreates southern Italy's Pizzica musical and dance traditions. The tradition pizzica tarantata is said to cure the taranta spider's bite with its frenzied trance dances.
The group is led by fiddler and frame drummer Mauro Durante. The rest ofthe ensemble includes Emanuele Licci on bouzuki, classical guitar, vocals; Alessia Tondo on vocals; Silvia Perrone on dance; Giulio Bianco on harmonica, zampogna (Italian bagpipes), recorder; Massimiliano Morabito on diatonic accordion; and Giancarlo Paglialunga on tamburello, vocals.
Discography:
Canti di terra d'Otranto e della Grecia Salentina (Fonit Cetra, 1997)
Concerto 1 (1980)
Come farò a diventare un mito (Dunya, 1983)
Concerto 2 (1985)
Canzoniere Grecanico Salentino (1988)
Concerto 3 (1991)
Sutt'acqua e sutta ientu navegamu (1994)
Mamminieddhu Zuccaratu (1994)
Ni pizzicau lu core (1997)
Ballati tutti quanti ballati forte (Felmay, 1998)
Canti e pizziche d'amore (Salento Altra Musica, 2000)
carataranta (Salento Altra Musica, 2000)
Pizzica pizzica (Salento Altra Musica, 2001)
Alla Riva Del Mare (Salento Altra Musica, 2002)
Serenata (Salento Altra Musica, 2002)
Focu D'Amore (Ponderosa Music & Art, 2010)
Pizzica Indiabolata (Ponderosa Music & Art, 2012)
Quaranta (Ponderosa Music & Art, 2015)
Canzoniere (Ponderosa Music & Art, 2017)