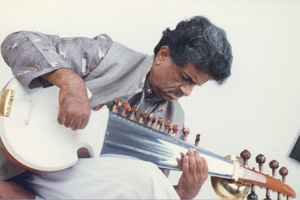 Rajeev Taranath is one of the leading performers of the sarod today. A distinguished disciple of Maestro Ali Akbar Khan, he was first trained as a child in Hindustani vocal music by his father and other eminent musicians and was a concert and radio artist before he was twenty. Rajeev Taranath performs internationally and is currently on the faculty at the California Institute for the Arts in Los Angeles, where he teaches Hindustani classical music. He is the recipient of the Indian government's highest award in the arts, the Sangeet Natak Award for 1999-2000 for outstanding achievement in the field of Hindustani Instrumental music.
He was the subject of a documentary made for the television in Eden, Yemen, titled "Finnan Min-Al- Hind" ("Artist from India"). He has also composed music for several nationally and internationally honored Indian films.
Taranath has been associated with music in Indian films for the past decade or more. His introduction to film music was in the 1950s, when he played music composed by his teacher for some Bengali films. He has directed the music for the following films: Kadavu, Paper Boats, Pookuveyil, Kanchanaseeta, Pallavi, and Samskara.
Discography:
Swar Kalyan (Navras, 2012)
Manan "Meditation": Ragas Bihag and Bhairavi (2008)
Harmony: Sindhu Bhairavi Raagmala (2007)
Raga Kafi: Some Facets (2007)
Rasarang (Golden Horn Records, 2004)
Reflections Around Noon: Ragas Todi and Kafi (Audiorec, 2003)
The Call of Love, The Art of Persian and Indian Improvisations (2002)
Daybreak and a Candle End (2002)
Over the Moon (Navras, 2002)
Rag Nat Bhairo, Rag Kaushi Bhairavi, Bhairavi (1995)
Over the Moon : Raga Chandranandan (1993)
Raga Ahir Bhairav/Raga Charukeshi (India Archives, 1991)
The Magnificence of Yaman Kalyan (1987)
In the Master's Tradition: Rag Basant Mukhari, Rag Kirwani (1987)