The annual Rainforest World Music Festival in Kuching, Sarawak (Malaysia) is now in its 19th edition, and featured 25 bands from around the planet. The venue is the lush equatorial rainforest of the Sarawak Cultural Village – located between Mount Santubong and the South China Sea.
The 2016 lineup featured 17 international and 8 Malaysian groups. The overseas bands included Auli (Latvia), Broukar (Syria), Derek Gripper (South Africa), Dol Arastra Bengkulu (Indonesia), Dya Singh (Australia/Malaysia), Krar Collective (Ethiopia), Lan Dieu Viet (Vietnam), Naygayiw Gigi (Australia), Nukariik (Canada), Pat Thomas & Kwashibu Area Band (Ghana), Shanren (China), Stelios Petrakis Quartet (Greece), Chouk Bwa Libete (Haiti), Teada (Ireland), Vassvik (Norway), Violons Barbares (Bulgaria, Mongolia, France), and Vocal Sampling (Cuba).  The Malaysian lineup consisted of Alena Murang, Gendang Melayu Sri Buana, Mathew Ngau, Sape' Sarawak, The Thunder Beats Of Nanyang Wushu Drums, Unique Arts Academy, and 1Drum.
See also my coverage of earlier editions of RWMF: Collaboration, Creativity and Community, and Global Sound, Diversity and Celebration; as well as interviews with some of the performers (eg. Rafly wa Saja, Drew Gonsalves, ShoogleNifty).
Festival previews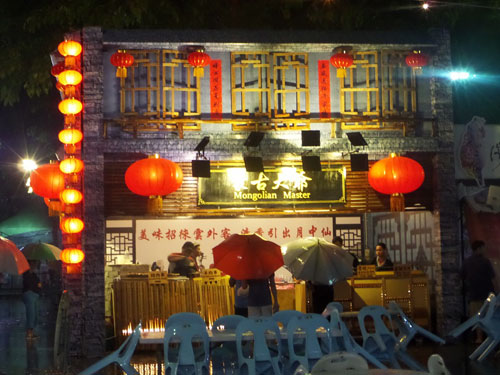 Before the Festival, some of the bands held preview concerts in local pubs, cafes and the Kuching Festival Food Fair. One of the previews was rained out due to a torrential downpour, but I caught the next superb performance by percussion troupe Dol Arastra Bengkulu from Indonesia. They are influenced by the 'percusi dol' ritualistic traditions of Sumatra, celebrating acts of heroism.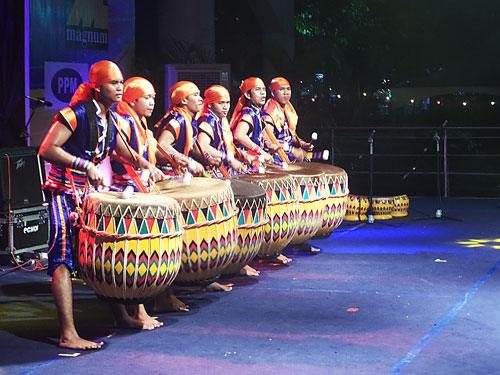 The musicians carried the thunderous 'gendang dol' drums with them as they danced around the stage, occasionally even lying down on their backs while playing them. They alternately formed circles and rows, sometimes even playing on their neighbors' drums.
Day One
Each morning of the festival began with a media meet between journalists and musicians; see my earlier articles on artiste insights: Fusion without confusion – how world music bands blend multiple influences (2016), How world music bands build collective vision, promote indigenous culture and yet adapt to changing times (2015), World music bands address the importance of heritage, messages and innovation (2014) and World music bands address their role in social change, cultural preservation and creativity (2013).
The media meet was followed by an afternoon of indoor workshops and performances, starting off with Vietnam and Malaysia. The five members of Lan Dieu Viet are all music teachers at the Vietnam National Academy of Music. Trương Thị Thu Hà played a dazzling solo on the beautiful trung (bamboo xylophone), and Cồ Huy Hùng (moon lute) and Nguyễn Hoàng Anh (bamboo flute) also stood out in the folk performances.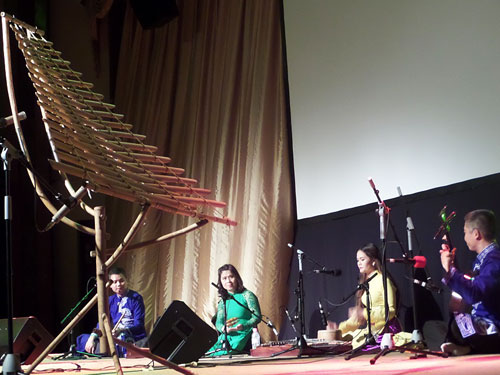 They were followed by Alena Murang on sape and vocals, performing traditional music of Sarawak in the language of the Kenyah and Kelabit people from Ulu Baram. Murang is one of the few young women to openly perform and teach the sape, an instrument from Borneo that used to be a taboo for women to even touch. She learnt from masters such as Mathew Ngau, and has played overseas and gives talks and lectures on the sape.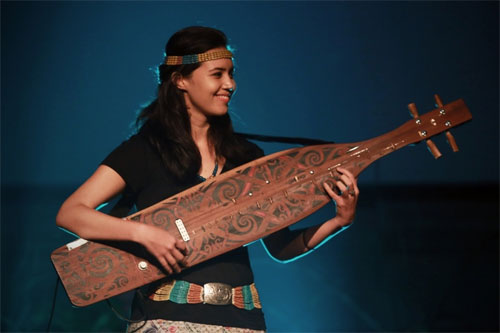 Each evening, a drum circle was facilitated by Malaysia's 1Drum (their slogan is 'Drum, Cause You Can!'). The outdoor acts at night were held on two adjacent stages set in the picturesque rainforest. Traditional ceremonies to bless the festival were conducted by local cultural groups and musicians.
Sape' Sarawak is a band drawn from the various Sarawak ethnic groups such as Orang Ulu, Iban, Bidayuh, Melanau, Malay, Chinese and other communities. The 17 players presented age-old tales of ancient warriors and supernatural princesses.
Naygayiw Gigi then wowed the audience with an astonishing array of costumers and ritual dances. The troupe, whose name means 'Northern Thunder,' hail from Bamaga, the northernmost town in Queensland, Australia. They played the music of seven clans from the Torres Strait, in the form of stories about celebration as well as defense from other attacking clans.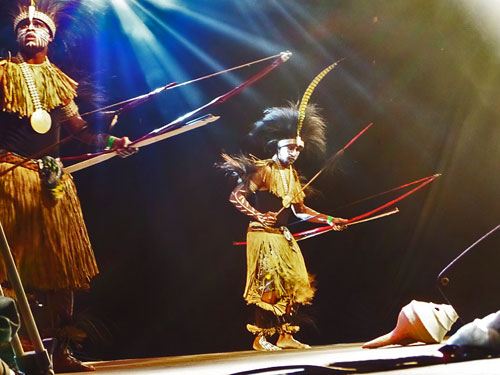 The focus shifted back to Asia with the Unique Arts Academy, performing music and dance of the South Indian communities in Malaysia. Folk drums such as thappu, kottu, chimta, and ganjira filled the stage, along with harmonium and bass guitar. The group has performed at the International Folklore Festival and World Harvest Festival.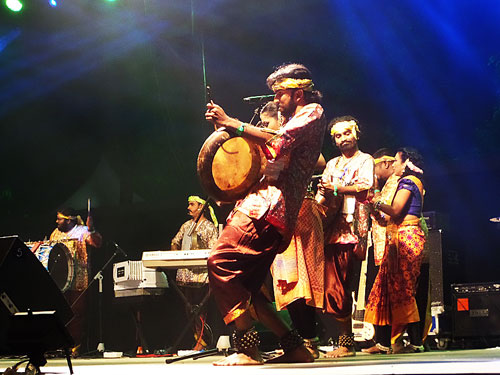 Acclaimed Irish folk band Teada then took the stage; ace fiddler Oisín Mac Diarmada regaled the audience with his humor along with his fellow musicians on percussion and guitar. "Ireland is so nice a place that all our neighbors invaded us," they joked. They dedicated a song to the freedom-fighters of Ireland.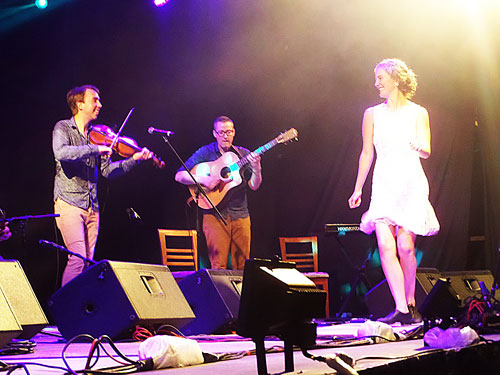 Their high energy set also featured some enthusiastic step-dancing by keyboardist Samantha Harvey, and the audience clapped loudly in appreciation. "Thanks, but your kindness will be forgotten," the band joked again. Over the past 15 years, Teada has also performed at the Edmonton Folk Festival in Canada and Harare International Festival of the Arts.
The energy picked up several notches with a thunderous performance by Dol Arastra Bengkulu (Indonesia), who had also played a shorter set at the previous day's preview showcase. The first African band of the festival then took the stage: Krar Collective from Ethiopia. The set had elements of electro-folk and rock, with the talented Temesgen Zelekeis on electric krar, Grum Begashaw on drums, and Genet Assefa on vocals and dance.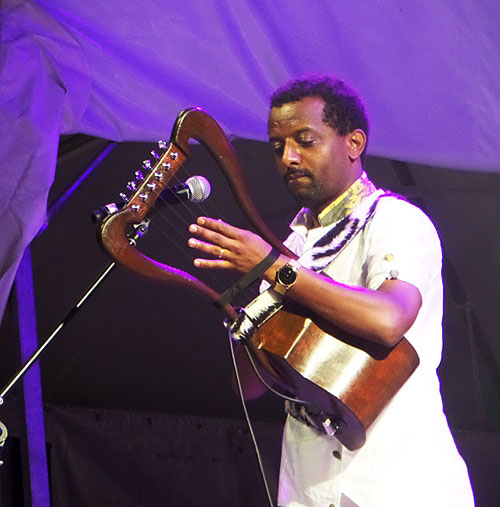 Assefa changed costumes six times during the set! and the audience had a tough time trying to imitate her 'shoulder dislocating' dance moves! The band has also collaborated with Baaba Maal and Rokia Traore, and Led Zeppelin's John Paul Jones.
The night came to a climax with the high-energy bagpipe and drum music group Auļi from Latvia. The band revives Latvia's earlier bagpipe traditions, and added a terrific percussive layer with some of the biggest 'tree trunk drums' in the Baltics. They played danceable tracks from some of their earlier albums, which include the aptly named 'Etnotranss.'
Day Two
The indoor performances on Day Two were kicked off by Sikh hymn singer Dya Singh, who grew up in Malaysia and is now based in Australia. He has released over 25 CDs, and has performed at dozens of festivals including WOMADelaide, Vancouver Folk Festival, and California World Music Festival. His uplifting spiritual incantations actively involved the audience as well; he was accompanied by Dheeraj Shrestha (tabla) as well as his own daughter Gimel.
The second indoor performance featured solo acoustic guitarist Derek Gripper from South Africa, who has nine albums to his credit. He interpreted a number of kora compositions on his guitar, for which he had earlier received acclaim from classical guitar legend John Williams and kora maestro Toumani Diabate. The audience showed their appreciation by lining up immediately after his performance to buy his CDs and get his autograph.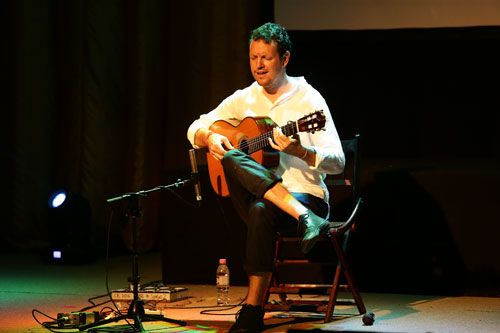 An hour of torrential rain got the night performances off to a delayed start, but the show went on; after all, what's the rainforest festival without some rain? The performances began with Mathew Ngau, master sape player and story teller, who also makes his own range of sape instruments and teaches the young Sarawak generation about their traditions.
The next band was Stelios Petrakis Quartet, performing the lively music of Crete from Greece. Petrakis also makes his own instruments such as the lira and laouto, and the pride and respect he had for his traditions shone through in his performance. The accompanying dances also drew loud applause from the audience.
Naygayiw Gigi from Australia treated the audience to some more brilliant costumes and dances; they were followed by Band Girl LKNS from the Sabah state of Malaysia, who showcased a wide range of traditional local gongs.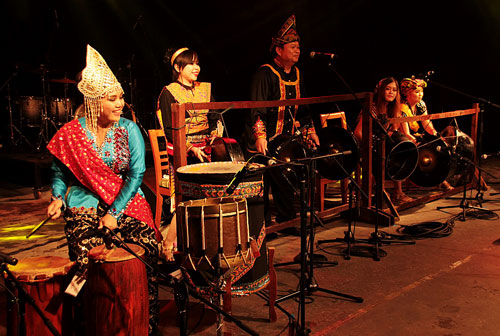 One of the most unusual bands at RWMF was Vocal Sampling, a male a capella sextet from Cuba, with a lineup that included Rene Baños Pascual, Pedro Bernard Coto, and Reinaldo Sanler Maseda. If you closed your eyes, you could almost visualize a real Latin band playing with congas, bass, trumpet, trombone and guitar! They have performed with the likes of Peter Gabriel, Bobby McFerrin, Ray Barreto, Celia Cruz, Chick Corea and Gal Costa.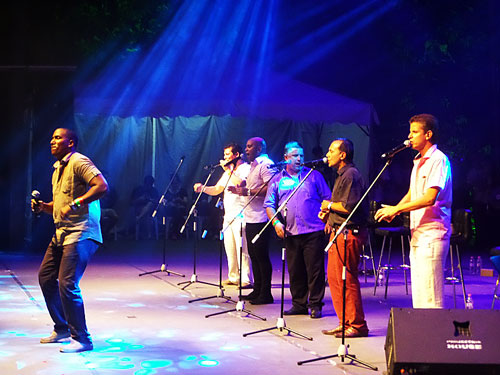 The group has played at Couleur Café, WOMAD, Festival de Jazz de Nice, Jazz Festival Istanbul, and World Music Festival Sukiyaki. Their rendition of the rock classic 'Hotel California' drew loud applause as well at RWMF.
Another range of instruments then featured on the next stage, with Shanren from China playing high-energy folk-rock music from the Yunnan region. Reggae was also blended into the set as the quartet showcased instruments such as xianzi, qinqin and dabiya (four-stringed plucked instruments) as well as xianggu and sun drum (percussion). They have performed at Barcelona Festival Asia, Canadian Music Week, Midem in Cannes, Turtle Island Festival and Liverpool Sound City.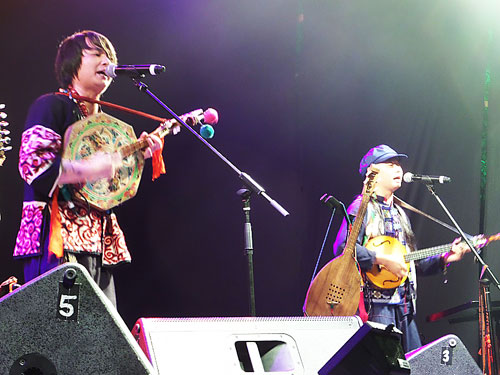 The perfect closing act for the Saturday night performances was Pat Thomas & Kwashibu Area Band from Ghana. Called the 'Golden Voice of Africa,' Pat Thomas filled the stage with a phenomenal range of musicians including multi-instrumentalist Kwame Yeboah (guitar, keyboards) and saxophonist Ben Abarbanel-Wolff. The set blended Ghanaian highlife, afro-beat, afro-pop and even disco – spanning four decades of genres and fusion. The aptly-named 'I Need More' was the encore.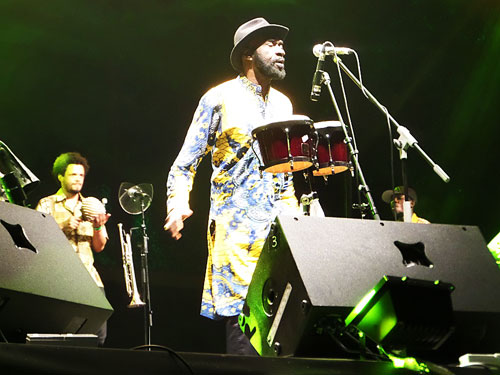 Day Three
The indoor performances on Day Three featured some outstanding throat singing from Norway and Canada. Torgeir Vassvik and his trio kicked off the first performance; Vassvik is an artist from Sápmi's northernmost tip, Gamvik in Norway. The Sami joik and resonant throat singing reflect the diverse textures and climates of the Arctic zone.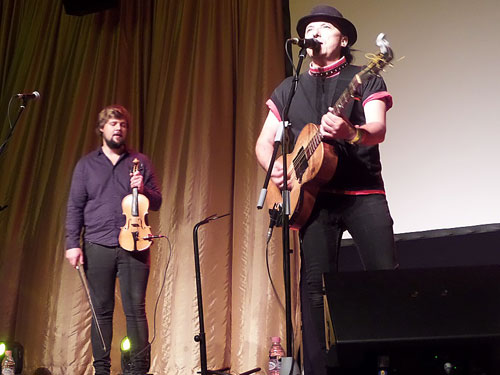 The second Northern band on stage was Nukariik from Canada. The duo consists of sisters Kathy and Karin Kettler. Their Inuit throat singing and breathing styles, performed while facing each other, were inspired by the birds, animals and seasons of their region; a backdrop of photographs provided stunning visuals as well. "The mosquitoes in the Arctic are much bigger than the Malaysian ones," Kathy joked.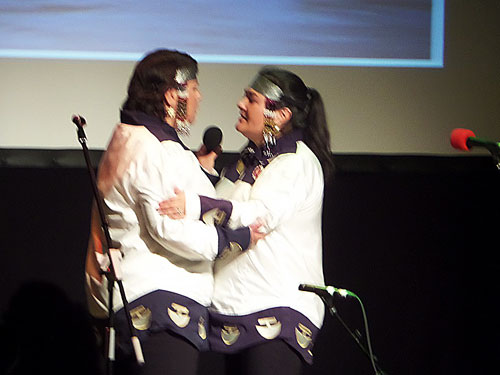 The sisters explained how the alternating scales and close sequencing of tunes lead to complex yet entertaining melodies. They have performed at the National Aboriginal Achievement Awards, and are on the Inuit Throat Singer's Committee.
The night performances on the last day were kicked off by the youthful band Thunder Beats of Nanyang Wushu Drums, from Sarawak in Malaysia. It included 12 drums representing the 12 months of a year, which are performed for prosperity, fortune and abundance.
The eagerly-anticipated Syrian band Broukar took the stage next (I was fortunate to also catch their performance earlier in July at the Forde Festival in Norway; see my writeup here). They were founded in 2007 in Damascus by Taoufik Mirkhan (kanun), and the musician lineup now includes his sister Hadil Mirkhan (oud) and Modar Salameh (percussion).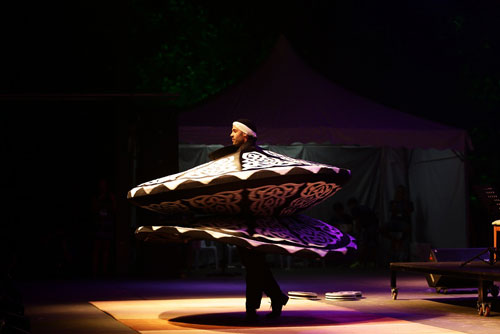 "The kanun has 78 strings, which means 78 minutes of tuning," joked Taoufik Mirkhan, during one of their earlier afternoon workshops. "We also teach this music to our younger generation so they can keep the culture alive – and hopefully one day perform at festivals like this," he said, referring to the sad plight of Syrian refugees.
The highlight of their performance was three sets of whirling dervish dance by Ahmad Alkhatib – twice in traditional white Sufi costume and finally in a breathtaking black-and-white dress.
Another high-energy trio then took the stage: Violons Barbares, with members from three countries: Dandarvaanchig Enkhjargal (or Epi, from Mongolia), Dimitar Gougov (Bulgaria) and Fabien Guyot (France). Epi blew the audience away with his deep throat singing and sense of humour, and sizzling work on the morin khoor. The Malaysian expression for 'thank you' (terima kasi) spoken in his super-deep voice drew delighted whoops from the audience.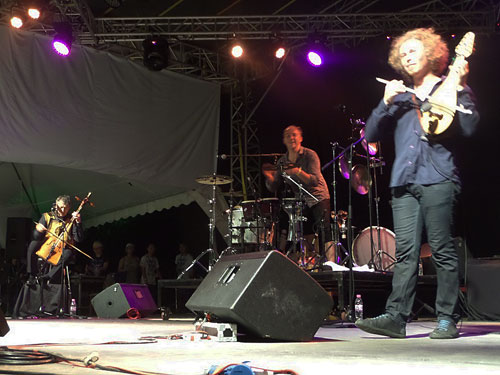 Dimitar Gougov played haunting tunes on the gadulka, and Fabien Guyot was simply magnificent on percussion. The trio played a range of love songs and high-energy tracks (including the Afghan 'Caravan'), and pushed the frontiers of tradition and cross-boundary fusion.
Gears shifted to the largely percussion band Chouk Bwa Libète, a traditional Haitian Mizik Rasin (roots music) band. The voodoo music featured an astonishingly intricate yet highly danceable array of rhythms and chants, with multiple fades and crescendos. The energy was so infectious that lead vocalist Jean Claude Sambaton Dorvil even seemed to be possessed with a spirit for some time, adding a layer of drama to the performance.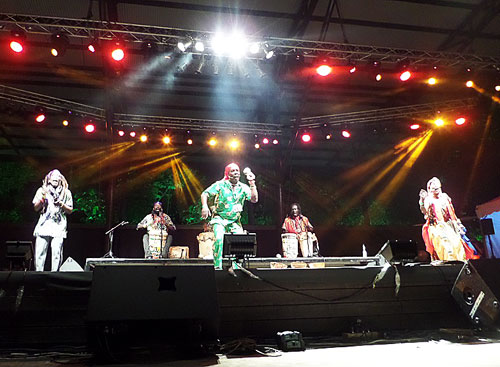 Drummers Lakous Badjo, Souvenance and Soukri showed unbelievable energy and variation as they alternated between their instruments. The audience joined in a chorus of 'Amun Aye' for the last track, and a rousing conch tone wrapped up the set.
The place slowed down a bit with the traditional joget (Malaysian dance) by the group Gendang Melayu Sri Buana, and picked up once again with Latvian bagpipe-drum band Auli (who had also finished up Day One's performances).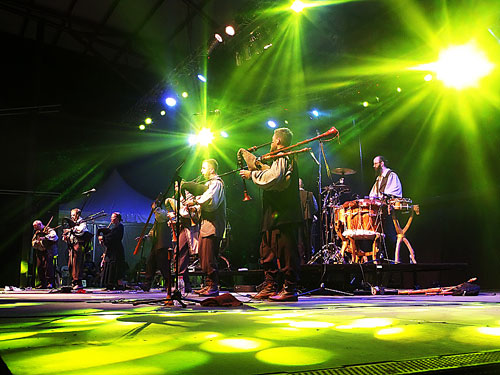 All the bands from the three days of the festival came together on stage for the grand finale, and the audience cheered them on loudly as they took their final bow. The black-and-white twirling cape of Broukar's dervish dancer Ahmad Alkhatib soaring above the rest of the musicians was a memorable sight. The festivities carried on with a poolside jam at the musicians' hotel, with samples of Greek, Arabic and Canadian indigenous music!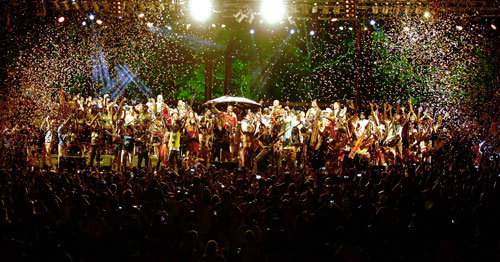 I picked up a stack of CDs from the bands over the three days of the festival, which should keep me busy with reviews for the next couple of weeks. We already look forward to the next Rainforest World Music Festival in 2017, which promises to be extra special since it will be the 20th edition!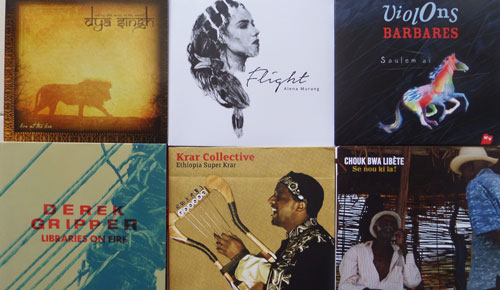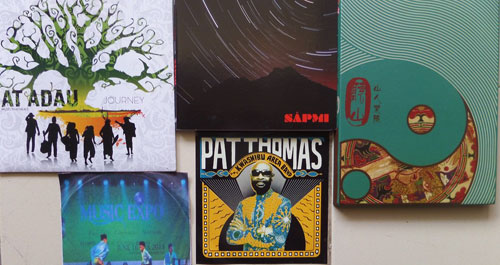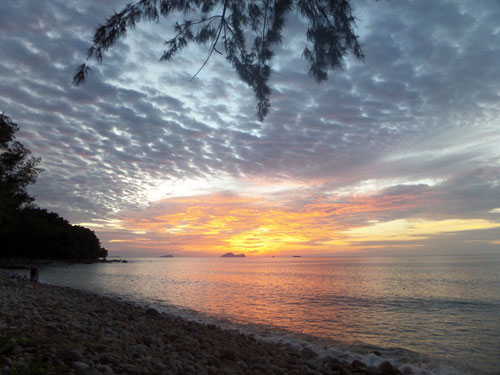 Headline photo: Dol Arastra Bengkulu