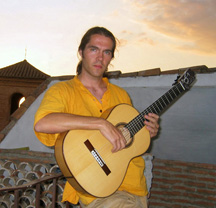 Ivan Tucakov was born in 1978, in Belgrade, Serbia. He grew up in Turkey and Serbia. Throughout the years, he also traveled to Spain, Portugal, Mexico and Peru in search for new inspiration. He currently lives in Canada.
Ivan founded of the music collective called Tambura Rasa. The music is a unique combination of energetic world fusion music that mixes elements of Afro-Latin, Flamenco, Middle Eastern, Irish, Indian Classical, Balkan, Gipsy, Jazz and many other musical forms.
The Tambura Rasa Collective in its standard form consisted of Ivan Tucakov on the guitar, Tarun Nayar on tablas, Suzka on the violin, Mike Michalkow on percussion, and Brian Poulsen on guitar and John Bews on bass.
Discography:
Sunrise on a New World (2004)
Viaje (2006)
Kamanala (2008)
Tambura Rasa Beats (2009)
Adsum (2011)
In Concert (2012)
Arribada (2014)