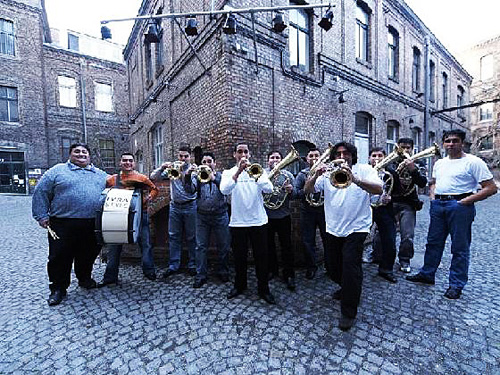 In a small town in Central Serbia, called Guca, the "Festival of Brass Music" takes place annually since 40 years. It's a competition to determine the best brass musicians on Earth. More than 300.000 people grab the chance to listen to over 30 bands. And Boban Marcovic Orkestar are among the winners every time, receiving the "best orchestra" award in 2000 as well as "best trumpet" for the maestro himself in 2001 – his 5th win. It was the first time ever that a musician got the highest mark from every jury member.
The reason for Markovic's continuing success is evident: He is the best Serbian trumpeter, reinventing "traditional" brass music with injections and adaptations of sounds from around the globe. His music is strongly influenced by the old traditions of the Roma. Just listen to his version of the Jewish classic Hava Naguila and you'll understand.
The band's repertoire includes Gypsy grooves, chocheks and other dances, as well as tunes from movies of Emir Kusturica, but also new material, composed exclusively for the band. In a mix of archaic jazz and light and sweet Balkan-brass-sound Markovic became a king in the Balkans and now is one of the VIPs of the region. The band performs on weddings, on open-air-festivals, in music academies or on classical concerts with the same power like the best rock bands.
From the historical sight only the Gypsies kept the country's tradition of brass music alive, from the times of the Ottoman Empire through Tito's communist regime, right into Slobodan Milosevic's infamous reign.
Since Emir Kusturica's notorious Balkan film Underground (1995), Gypsy-Serbian brass music started to have powerful presence on the world music scene. The blasting of Gypsy brass made the film unforgettable, creating the frantic, surreal atmosphere which the film is famous for. None other than Boban Markovic and his orchestra supplied the most impressive tunes of the soundtrack. Boban Markovic Orkestar have played festivals and concerts throughout Europe.
Discography
* Hani Rumba (ITMM, 1997)
* Zlatna Truba Golden Trumpet (PGP-RTS, 1998)
* Srce Cigansko Gypsy Heart (X Produkcio, 2000)
* Millennium (X Produkcio, 2000)
* Bistra Reka (X Produkcio, 2001)
* Live in Belgrade (Piranha CD PIR1685, 2002)
* Boban I Marko (Piranha CD PIR1790, 2003)
* The Promise (Piranha, 2005)
* Go Marko Go! (Piranha, 2007)
* Devla (Piranha, 2009)
* Balkan Brass Battle, with Fanfare Ciocărlia (Asphalt Tango Records, 2011)
* Golden Horns: The Best of Boban i Marko Marković Orkestar (Piranha Musik, 2012)
Photo 1 by Linus Hook