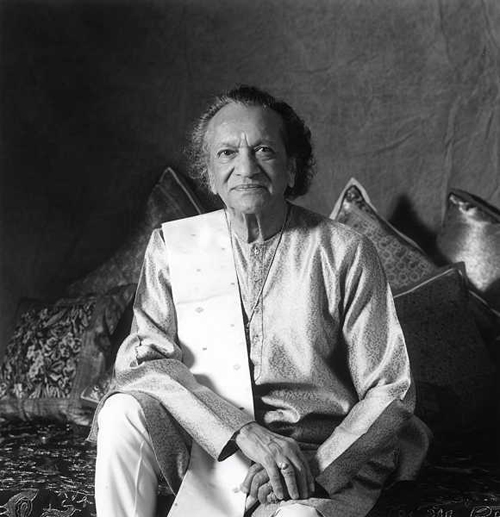 Legendary virtuoso sitarist, composer, teacher and writer, Ravi Shankar was born April 7, 1920 in Varanasi, India. He was renowned throughout the world for his pioneering work in bringing Indian music to the West. He was a cultural influence in the West for several decades as India's most recognized and esteemed musical ambassador. The youngest son of a Bengali family, he grew up in Varanasi (Benares), the holiest of Indian cities.
At a young age he accompanied his elder brother, Uday Shankar, with his company of dancers and musicians to Paris where he attended school. He spent several years in the West absorbing different kinds of music but returned to India in 1938 where he began his career in his native India. He combined his concert performances with his work for All India Radio (1949-56) where he established the National Chamber Orchestra. As word of his virtuosity spread throughout India, then Europe, Asia and the United States, Shankar embarked on one of the most extraordinary careers in the history of contemporary music.
Ravi Shankar was a prolific composer and in addition to his numerous ragas and talas, he wrote for musicians from the East and West including Menuhin, Jean-Pierre Rampal and Japanese artists. Among his works are two Concertos for Sitar and Orchestra, the first commissioned by the London Symphony Orchestra and premiered under Andre Previn.
In 1980 he was commissioned by the New York Philharmonic, under the direction of Zubin Mehta, to compose "Raga-Mala" (A garland of Ragas), which was his second Sitar Concerto. Ravi Shankar also wrote, composed and choreographed the ballet "Ghanashyam," a work that made history on the British and Indian cultural scenes.
He composed extensively for ballets and films including Satyajit Ray's Apu trilogy, which raised film music to a new standard of excellence, and Gandhi, the Academy Award winning classic by Richard Attenborough which won him nominations for both an Oscar and a Grammy Award.
Ravi Shankar was the recipient of many awards and honors including the Presidential Padma Vibhushan Award (1980) and the Award of Deshikottam, given by Vishawa Bharati and presented in December 1982 by the then Prime Minister, the late Mrs. Indira Gandhi. He is an honorary member of the American Academy of the Arts and Letters and recipient of twelve doctorates.
In 1986 he became a member of the Rajya Sabha, India's Upper House of Parliament. He was a Fellow of the Sangeet Natak Academy and Founder President of The Research Institute for Music and the Performing Arts.
In 1999 the government of India honored Ravi Shankar by awarding him its highest civilian award, the "Bharat Ratna" or Jewel of India. In February 2000, Mr. Shankar received France's highest civilian award, the "Commandeur de la Legion d'Honneur".
In 1996 Angel Records released In Celebration, a lavishly documented 4-CD retrospective of his greatest recordings, in honor of his 75th birthday. Angel/EMI is continuing to release many of Mr. Shankar's albums previously unavailable on CD.
In 2004, Ken Hunt, Pandit Ravi Shankar's approved biographer, a full-time freelance writer, broadcaster and translator specializing in music, compiled The Rough Guide To Ravi Shankar. The album is an excellent introduction to the music of the most famous Indian alive.
Called the "Godfather of World Music" by George Harrison, Ravi Shankar was also given the title "Global Ambassador" by the World Economic Forum. He continued to tour each season all over the world dividing his time between India and the USA with regular visits to Europe and the Far East. He was the author of three books My Music, My Life (in English), Rag Anurag (in Bengali) and Raga Mala (English) – the latest of which is an autobiography that was released in Fall 1999.
Perhaps no other greater tribute can be paid to this remarkable musician than the words of his colleague, Yehudi Menuhin, "Ravi Shankar has brought me a precious gift and through him I have added a new dimension to my experience of music. To me, his genius and his humanity can only be compared to that of Mozart's."
Ravi Shankar died on December 11, 2012 in La Jolla, California, USA. His daughter, groundbreaking sitarist Anoushka Shankar continues the family tradition.
Discography:
Three Ragas (Angel Records, 1956)
Improvisations (Angel Records, 1962)
India's Most Distinguished Musician in Concert (Beat Goes On, 1962)
India's Master Musician (Angel Records, 1963)
In London (Angel Records, 1964)
Ragas & Talas (World Pacific, 1964)
Sound of the Sitar (Angel Records, 1965)
West Meets East (Beat Goes On, 1966)
In San Francisco (Beat Goes On, 1967)
At the Monterey International Pop Festival (One Way Records, 1967)
Live at Monterey 1967 (Beat Goes On, 1967)
In New York (Beat Goes On, 1968)
A Morning Raga/An Evening Raga (Angel Records, 1968)
The Sounds of India (Columbia, 1968)
West Meets East, Vol. 2 (Beat Goes On, 1968)
At the Woodstock Festival (Beat Goes On, 1970)
Ravi Shankar: Concerto for Sitar & Orchestra; Morning Love (Beat Goes On, 1971)
Transmigration Macabre: Music from the Film Viola (See For Miles Records, 1973)
Shankar Family & Friends (Topspin Media, 1974)
Ravi Shankar's Music Festival from India (Dark Horse, 1976)
Raga Parameshwari (Capitol, 1976)
East Meets West in an Historical Improvisation (Ravi Shankar Music Circle, 1979)
Räga-Mälä (Sitar Concerto No. 2) (Angel Records, 1982)
Tana Mana (Private Music, 1987)
Inside the Kremlin (Private Music, 1988)
The Genius of Ravi Shankar (Scorpio Distribution, 1990)
Passages (Atlantic, 1990)
Megh Malhar, Vol. 1 (Music Today, 1991)
Flute & Sitar Music of India (Empire, 1993)
Doyen of Hindustani Music Oriental, 1995)
Ravi Shankar in Venice: Raga Gurjari Todi, Manj-Khamaj, Shailangi (Discovery, 1995)
Concert for Peace: Royal Albert Hall (Moment Records, 1995)
Genesis [Original Soundtrack] (Milan, 1995)
Sublime Sounds of Sitar (Oriental, 1996)
Chants of India (Angel Records, 1997)
Raga Tala (Movieplay Music, 1997)
From India (Saar, 1997)
Raga Jogeshwari (Interra, 1998)
Four Ragas (Movieplay Music, 2000)
Full Circle: Carnegie Hall 2000 Angel Records, 2001)
Inde du Nord Ocora, 2001)
Spiritual Music of India: Ragas for Meditation (Proper, 2003)
Shankar: Concerto for Sitar & Orchestra; Morning Love (Warner Classics, 2003)
Traditional: The Spirit of India (Deutsche Grammophon, 2004)
Raga Hamir, Raga Hemant (2004)
Jod, Jhala, Gat (Saregama, 2004)
Raag Mishra Pilu (Saregama, 2004)
Raag Rajya Kalyan (Saregama, 2004)
Raga Bilaskhani Todi (Saregama, 2004)
Raga Mala: Aalap, Rajakhani Gat Teentaal (Saregama, 2004)
Alap, Jod, Gat, Vilamlit, Madhyalaya Teentaal (Saregama, 2004)
Raga Des: Maseekhani Gat-Teentaal/Rajakhani Gat-Ektaal (Saregama, 2004)
Raag Mishra Pilu (Saregama, 2004)
Homage to Mahatma Gandhi (Deutsche Grammophon / Edge Music, 2004)
Real Togetherness (Saregama, 2004)
Eternal Ragas (Saregama, 2004)
Timeless Classics: Hindustani Classical (Saregama, 2004)
Unique: Indian Night Live Stuttgart '88 (Chhanda Dhara, 2004)
Sangeet Sartaj, Vols. 1 & 2 (Music Today, 2005)
Sur Saaz Aur Taal, Vol. 2 (Music Today, 2005)
Jazz et Ragas (Beat Goes On, 2005)
Spirit of India Chhandra Dhara (Chhanda Dhara, 2005)
Raga Charukauns (Chhanda Dhara, 2005)
Saaz Sitar, Vol. 1 (Music Today, 2005)
Saaz Sitar, Vol. 2 (Music Today, 2005)
Homage to Mahatma Gandhi (Fontana, 2006)
Raga Jogeshwari (Fontana, 2006)
Sitar Soul (Music Today, 2007)
More Flowers of India (Él, 2008)
Psychedelic India (Cherry Red, 2010)
Nine Decades, Vol. 2: Reminiscence of North Vista (East Meets West, 2011)
Nine Decades, Vol. 3 (East Meets West, 2011)
Nine Decades – Vol.4 – A Night at St. John the Divine (East Meets West, 2014)
Ravi & Anoushka Shankar Live In Bangalore (East Meets West, 2015)
Nine Decades 5 – Ghanashyam: A Broken Branch (East Meets West, 2017)