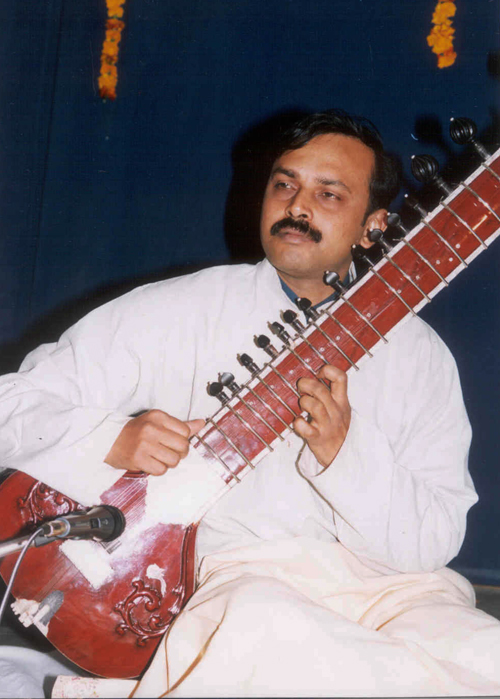 Subrata De was born in 1970 in Jamshedpur. He was initiated in the art of playing Hindustani Classical Music on the sitar at the age of seven under the guidance of Sri. Amarjeet Singh of Jamshedpur. Later, he obtained training from Suramani Bauri Bandhu Sethi of Bhubaneswar, from where he has imbibed the essential elements of sitar with great devotion
After 10 years he placed himself in the hands of sitar maestro Pandit Manilal Nag of Calcutta of Bishnupur Gharana, with strict discipline and sincerity, to learn extensively the Dhrupad and Gayeki Style, Tankari, Alapang, Gatkari etc. of Bishnupur Gharana and now has become an accomplished sitar player. Currently, he is involved in various musical organizations as a lecturer in sitar.
As a professional artist, he has been awarded 'Sangeet Praveen' by 'Prayag Sangeet Samiti', 'Allahabad and Sangeet Bhaskar' by 'Pracheen Kala Kendra', Chandigarh. Also he has received 'National Scholarship' from Govt. of India Ministry of HRD, Dept. of Culture and he has been selected by 'Indian Council' for Cultural Relation for their panel of Musician. He has been associated with 'All India Radio' as a graded artist since 1990. He has been selected by 'Sahitya Kala Parishad – New Delhi' to perform in Yuva-Mahotsova'98.
The release of few audio cassettes and CDs like meditation de la India, Ganga, Insearch & Swaranjali, also created a milestone in his musical career.
He has given numerous performances in various International & major festivals all over India and many countries in abroad namely, Switzerland, Finland, Estonia, Cuba, Brazil, Panama, Guatemala, Mexico, Argentina, Chile, Nicaragua, Peru, Columbia, Venezuela, Costa Rica, Paraguay, U.S.A, Armenia, Austria, Holland, Germany, Sweden, South Korea, Hong Kong, as a Solo and an accompanist and also he dedicated himself to extend and create an environment of Classical Music in rural areas of India and in abroad with leading organizations and eminent dancers. Apart from this, he has been associated with media & various cultural organizations as a sitarist and& cultural coordinator. At present working with G.D. Goenka World School, Sohna.