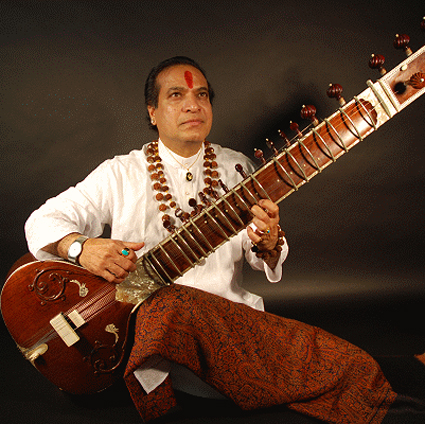 Pandit Habib Khan is regarded as one of the best sitar players in the world today. He was born into a family of musicians and can trace his lineage back several generations to when classical music enjoyed the patronage of the nobility and royalty of India.
He began his training at the tender age of five under the strict eye of his accomplished father, Hameed Jaffar Khan. The Jaffar Khan family was from Indore and were well known for their unique style of playing the sitar, melding the effect of the human voice and the instrumental tone into a harmonious whole.
Habib Khan has carved out a distinct style of his own which is a blend of his father's traditional techniques and his own imaginative innovations. He is as much at ease with light classical and religious music as he is with pure classical renderings of ragas.
Habib Khan lives and teaches in the San Francisco Bay Area and performs all over the world. He has composed music for several CDs including Fire Dance (With Pat Martino, Zakir Hussain, Peter Block, and Ilya Rayzman), Longing on X DOT 25 Music and music for a yoga video series by Vasanti Bhat.
Discography:
FireDance (Mythos Records, 1997)
Ecstasy (RPG Music, 1998)
Longing (X DOT 25, 2000)