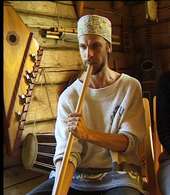 Vladiswar Nadishana is a Russian multi-instrumentalist and composer, who creates his own path in music, design, dancing, rites and other life processes.
His music style is ethnic fusion, ethnic jazz or world fusion – the creative synthesis of different musical traditions of the world on the basis of contemporary technologies.
In 1990, along with studying at the Cinema Engineers Institute in Saint Petersburg, Vladiswar Nadishana began his self-education in playing guitar. Then he mastered other instruments like fretless bass guitar, sitar, mandola, chanzy, jew's harp, ethnopercussion (darbuka, jembe, kalangu, udu, frame drums); winds (bansuri, quena, kalyuka, zhaleyka, gayda). In addition, he has created some experimental musical instruments: dzuddahord, pruzhingum, plastrimbaphon, rablorrum, ghostcatcher, pin-sansa, spring-pivot-gamelan, banbang (beer and coffee-tins), etc.
In 1991 he founded his first group Soulbuilding Society together with Lavrenty Mganga, then he played in Ensemble Ri,with Lavrenty and Youl (1996). He also launched two other projects with Youl: phonic Duet (1994) and The Fourth Race (2001).
2000 -was the foundation year of a trio Russian-Tuvan Karma Knot with a throat singer from Tuva, Ayas Holazhyk. Vladiswar also played in the group Capercaillies at the Treshold of Eternity.
In Berlin he worked with famous ethno DJ Genetic Drugs and with Ramesh Weeratunga, a musician from Sri Lanka . All these groups and artists create music based on an experimental synthesis of musical traditions from all over the world (ethno jazz, ethno fusion, new world music etc.)
Since 2000 Vladiswar lives in Tibercul, the biggest ecovillage of the world. There he established The Department of Sound Microsurgery (DSM) . DSM is a creative research laboratory, tackling a wide variety of project: from mastering unknown ancient musical instruments to investigating the influence of modern sound electronics on the human energy structure. The Department researches also how musical instruments influence the consciousness and inner organs of the human body (the project Move Your Chakra!).
V. Nadishana created several solo albums in his own studio, recording with a computer, using a multi-track overdubbing method. Vladiswar possesses a big collection of musical instruments (more than 100) from different parts of the world.
He is laureate of the international festivals Ustuu-Huree, The Sayan Ring and New Songs of the Old Lands, and he is also the founder of the ethnofestival Free of Karma Zone.
Discography:
Takku Ta Tei (2000)
Penetration Into Substance (Sound Microsurgery Department, 2001)
The Traditional Music of Ancient Kuzhebar Aboriginies (2005)
Kuckhermann Duo, Vladiswar Nadishana, David Kuckhermann – Live At The Moscow Hang Festival (Sketis Music, 2012)