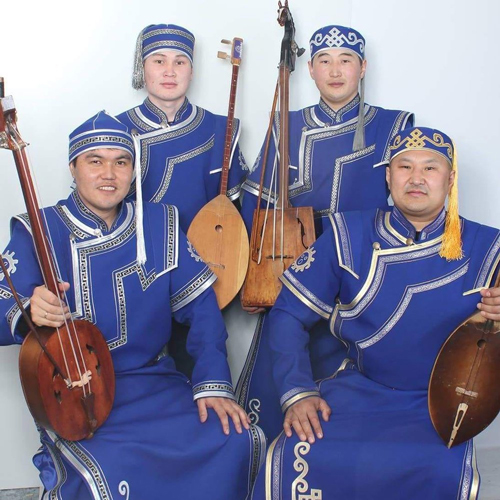 Founded in 1997, Altai Kai is an ensemble of throat singers from the Republic of Altai. With an eye to preserving the traditional music of the Republic of Altai, the group revels in performing various styles of throat singing known as kai. Their performances often encompass songs of nature, folk heroes, dancing rhythms, and shamanic mysteries.
Altai Kai has performed at WOMEX 2007 and WOMAD. They are members of the Folklore Union of Russia, and the International Organization of Folk Art and the group tours internationally.
Altai Kai's members are throat singer, producer and artistic director Urmat Yntaev (founder of the original band Karaty-Khan), throat singer and musician Alash Topchin, throat singer Eduard Sogonokov and throat singer, topshuur and ikili player Aidyn Orsulov.
Discography:
Where Altai Is In Rise – Musical Traditions Of Altai People (2002)
XXI (XXI Century)(2005)
Khan Altai (2005)
Made In USA (2006)
XXI Century (Version II)(2006)
Remix (2006)
Altyn-Taiga – Golden Taiga (2011)
Altai Kabai (2014)