The 2016 edition of the Iberoamerican Music Expo (EXIB) opened May 4th in Evora, Portugal. Evora is a beautiful walled city, a UNESCO world heritage site that includes numerous monuments spanning centuries. Evora is located in the Alentejo region of Portugal. It's part of Portugal's heartland and is defined by its rural nature. For the EXIB opening, organizers treated the audience to a mix of southern Portuguese traditional and contemporary folk music.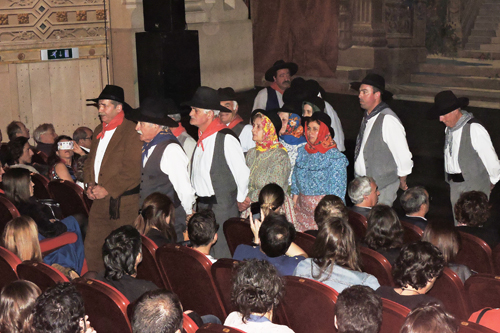 The concert at the Teatro Garcia de Resende started with the Grupo Coral e Etnográfico Cantares de Évora, marching through the center aisle towards the stage. This group of talented male and female singers, perform dressed in various costumes reflecting various social strata and professions from the mid-20th century, including traditional farmer, cowboy, and shepherd attire.
They perform traditional cante alentejano, an a cappella style that celebrates rural life. Grupo Coral e Etnográfico Cantares de Évora perform "old style", without any modern arrangements to the traditional music poems.
A series of short videos were screened, in between performances, highlighting Evora, farm life, the enthralling sheep bell makers and other aspects of the local culture.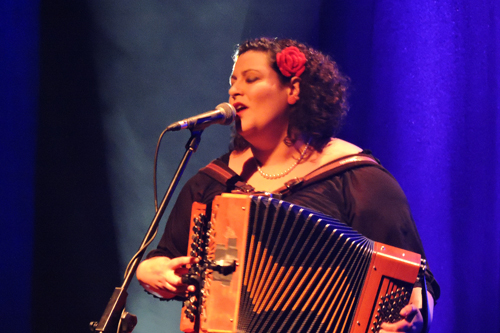 One of the great artists from the region, accordionist and vocalist Celina Da Piedade appeared next, accompanying herself on accordion. She was later joined by Há Lobos sem ser na Serra musicians, who accompanied Celina on guitar, drums and vocals.
Celina is a conservatory-trained musician and specializes in music from the Alentejo region. In addition to her talent as a passionate singer, she is also a virtuoso accordionist, playing beautiful melodies inspired by the Alentejo region. She participates and leads numerous workshops and has performed abroad. She leads weekly gatherings of Cante Alentejano in Casa do Alentejo, Lisbon. Celina has participated in over 50 recordings as well as soundtracks for film, theater and dance. She is currently part of the celebrated collective TaisQuais that includes some of the biggest names in Portuguese music: Vitorino, Tim, Sebastião, Serafim, Jorge Palma, Paulo Ribeiro and João Gil. They released a critically acclaimed album titled "Os fabulosos Tais Quais".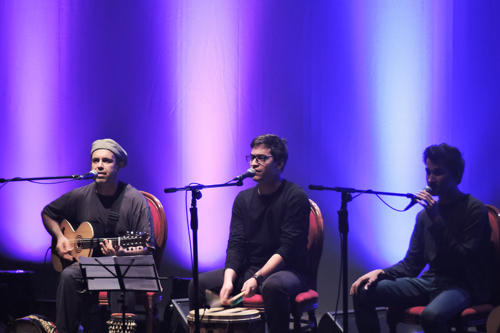 Há Lobos sem ser na Serra played next. They represent a new generation of cante alentejano musicians. Their sound is rooted in tradition although the arrangements take the music into exciting new directions. While the band plays, a graphic artists paints desings on a video screen.
Há Lobos sem ser na Serra use the 8-shaped guitar called viola campaniça. It's a rare guitar from Alentejo with a peculiar mouth that nearly disappeared in the 1960s. It has unusual tunings and the band extracts unexpected sounds and some jazz elements. Band members include António Bexiga on viola campaniça; Bernardo 'Buba' Espinho on vocals and drum; and David Pereira on viola campaniça and vocals.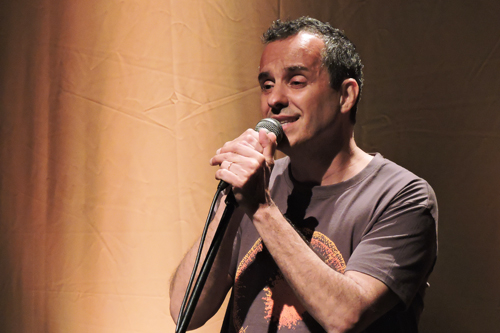 One of Portugal's most cherished singer-songwriters, João Afonso, performed accompanied by various guitars. João Afonso plays contemporary folk music and pop inspired by various Portuguese traditions. We have a João Afonso artist profile that you can read for additional information.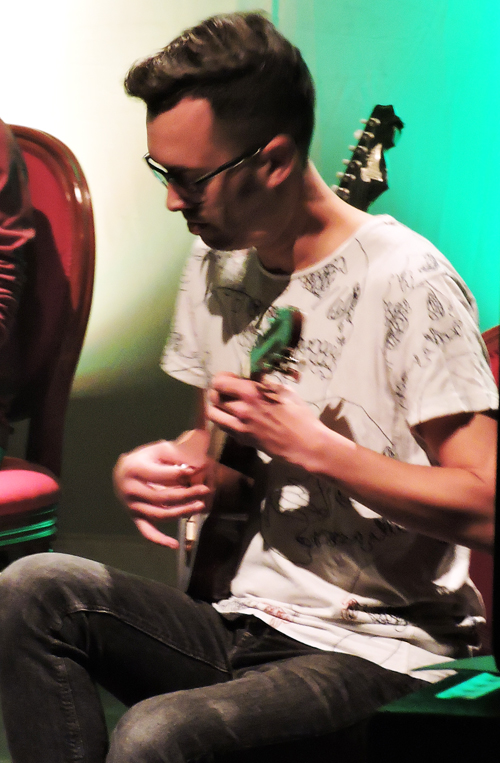 Two string masters participated in the event, accompanying João Afonso, playing solos and mesmerizing interplay. Luis Peixoto is a multi-instrumentalist who plays various string instruments and also mixes folk music with electronics. For this occasion he used the tiny cavaquinho, which is one of the ancestors of the ukulele.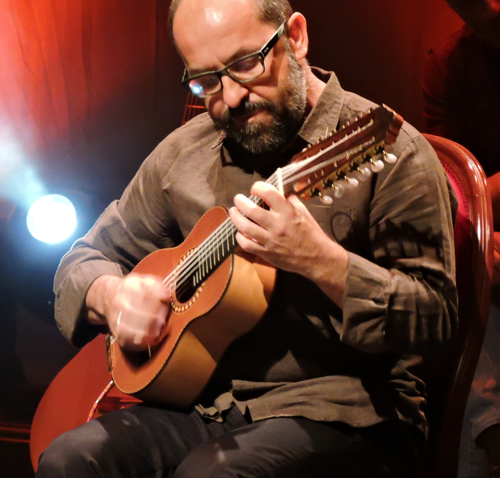 Juan José Robles, from southeastern Spain, was one of the two international guests. He's also multi-instrumentalist specialized in string instruments and the folk music from the Murcia region. He used the mandolina (mandolin), octavilla (a guitar from La Mancha) and a guitarro valenciano.
Carlos Malta's flute sounds entered the theater down the center aisle. The Brazilian wind instrument master brought the sounds of South America and joined the rest of the musicians for several beautiful songs that were very familiar to the Portuguese members of the audience, who sang along.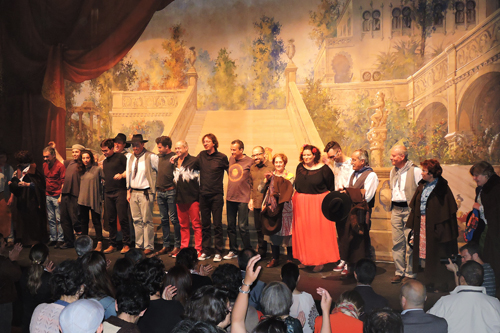 The EXIB 2016 opening concert was a superb introduction to the music of Alentejo.
Videos:
Related links:
Iberoamerican Music Expo (EXIB)
Celina Da Piedade
João Afonso
Luis Peixoto
Carlos Malta