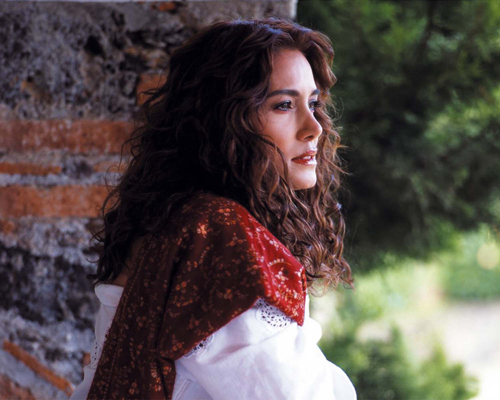 Tania Libertad de Souza Zuñiga was born in the small coastal town town of Zana in northern Peru, of a Portuguese father and a Peruvian mother of indigenous and Spanish descent. Her musical travels have taken her to Cuba and to Mexico, which she now calls home. She made her first public appearance as a singer at the age of 5 in Chiclayo, Peru, cheered on by her nurse mother and policeman father, performing the beautiful bolero "La Historia de un Amor." "I started to sing to at the age of five, performing songs in the vals (Peruvian waltz) style and boleros – Latin ballads – both accompanied by the cajon (a Peruvian percussion instrument that was developed from fish boxes)."
African influence was present along Peru's Costa Negra (Black Coast), among the descendants of slaves brought there four centuries ago, through other Peruvians and the rest of the world paid little attention to it. Though she's not black herself, Tania was raised there. "I was nurtured in the coastal area, so my contact with Afro-Peruvian music started right at the beginning of my life," she recalls. Tania remembers that, "All the music of that area had very strong elements of African instrumentation and melodies, and I always had contact with the black musicians from the towns."
Young Tania also came under the influence of boleros, romantic ballads with creators in Cuba, Mexico, Panama and across Hispanic America. Tania copied lyrics from the radio at home, with the cooperation of her mother, who phoned in multiple requests (using different family names) from her workplace. By the age of eight, Tania had 300 boleros in her repertoire. "There were two important kinds of music to me, bolero and rock," she says, "because they'll both be with us forever. The bolero is an excellent genre to express all bad and good situations of love. Even when I was eight I would sing dramatic stories, a funny thing in a child, but I was always interested to sow deep emotions."
When she moved to the capital city of Lima as a teenager, to pursue a career in music, Tania began to cultivate friendships with a strong community of composers and performers who were deeply involved with Black music. "At that time," she recalls of the 1970s, "the nationalistic government encouraged the growth of Peruvian culture, and even established an Afro-Peruvian Ballet company."
Her father, who had impelled his daughter to serenade his mistresses, became her manager when she was in her early teens, and accompanied her through her first contract with RCA Victor and her first national hit, but then insisted that she get an engineering degree. As soon as possible, Tania began acquainting herself with urban pe?as (nightclubs), but she felt uncomfortable with the racism and sexism she encountered there.
She moved on to the sort of protest music germinating out of the casas de trova of Chile and Cuba, and sang in universities and union halls alongside such legends as Victor Jara and Omar Portuondo. In 1978, Tania decided to seek out the fabled musical opportunities of Mexico. Penniless on her arrival, she eventually landed a contract with Polygram from whom she mixed sessions of trova, black Peruvian music, salsa and bolero.
Over the next couple of decades, Tania established her place as a titan of bolero from her adopted Mexican homeland, sharing stage with the likes of Rub?n Blades and Mercedes Sosa. She recorded an amazing variety of duets with Hispanic and Brazilian greats Miguel Bose, Willie Colon, Djavan, Vicente Fernandez, Ivan Lins and Cesar Camargo Mariano. But she also toured extensively in Europe and the Americas, recording a rock-bolero album with Phil Manzanera in London and a live album at the Blue Note jazz club in New York City. In New York, encouraged by a producer friend Joseph Papp, she performed in Central Park. And in 1997, she was declared an Artist for Peace by UNESCO.
Always eager for exploration, Tania surprised her fans recently with an album of operatic arias, whose subtitle translates as, And Why Not? But her heart kept turning towards an important source of her identity in the variety of black musical style of Peru. In the music of Cesaria Evora, from the islands off the west coast of Africa, Tania heard hints of the roots of black Peru. It was with Jose da Silva, Evora's producer, that Tania finally found a guide back to the Costa Negra.
"I could compare what happened with black music after 500 years with my Peruvian roots," Tania reported about her experience in making Costa Negra. "And when I showed songs to African musicians from Cameroon, Senegal, Madagascar, Cape Verde and Paris, all of them felt the Peruvian rhythms in a very natural way. It was an easy connection for me." Much easier than when Tania's repertoire had stumped a pickup band of jazz luminaries at the Festival Miami Beach.
"I've learned in all the countries I traveled through that Latin America is one, that we all have the same parents, so it's easy to adapt other kinds of songs to Peruvian rhythms," Tania pointed out.
On Costa Negra, there's the Argentine song "Yo vengo a ofrecer mi corazon" and the Cuban "Ay vida mia," reborn as landos, with a highly sensual rhythm traceable to Angola. The signature "Historia de un amore," Panamanian in origin, is changed to a lamento peruano, darker and slower, while "Poderoso rey de copas" is a more light-hearted marinera. Richly arranged, instrumental and choral textures place these folk-based form in a sophisticated array. The heartfelt bolero "Historia de un amor," on the album Costa Negra, resonates across the four-decade scope of singer Tania Libertad's career.
On Costa Negra, Tania was joined in another rendition of "Historia de un amore" by Cape Verdean diva Cesaria Evora. Thiss recording, made in Paris and Senegal, incorporates African musicians from Madagascar to Cape Verde, as well as musicians from Peru, Mexico and Cuba. Tania feels she had reunited with "the roots onto only of black music but of all Latin American music."
There is, Tania pointed out, a very special kind of dialogue between musicians, singers, and those who dance to the rhythms. "There are only about 15,000 Afro-Peruvian families in the country, but their cultural influence is very strong," she added. "Not only the music of these coastal people is special; many of their customs are also distinct."
"For many years," Tania explains, "the music was performed mostly out of sight, behind closed doors in close-knit Afro-Peruvian communities. Peruvian high society considered the music profane. But then, about 70 years ago, the rhythms began to emerge, style by style, and eventually grew into the popular form it is today. Now it is widely embraced as a music that's emblematic of the best of Peruvian culture."
In 2004 she released another Afro-Peruvian recording, the eclectic Negro Color. "I am not a folklorist," she said without apology. "Negro Color is my latest experiment. Costa Negra saw the return of an acoustic style. But I don't like to record an album that sounds like something else I've done. All of my albums are different. In Negro Color, we didn't use any samples or synthesizers. But as all the world sings boleros, so I decided to do boleros, but with other rhythms, not the standard form. For instance, on the Armando Manzanero song "Por debajo de la mesa," we used the lando rhythm. It's a beautiful song, and it gains a lot by being performed to the lando style."
"Negro Color is a collaboration among my music director, my guitarist, and myself," Tania explained of the special synthesis of talent that came together to produce this album. The guitarist, Felix Casaverde, performed with Chabuca Granda in Peru years ago, but arrived to Mexico with Libertad in 1980. With Cuban-born pianist and music director Sonia Cornuchet, Tania had a special collaborator. "We're searching," she said, "for the point that links Cuban and Peruvian music."
But it is the Afro-Peruvian sound that dominates Negro Color, even when Tania sings in Portuguese with Brazilian vocalist Eder da Rosa the poignant Chico Buarque song "Funeral del Labrador" (Funeral of the Laborer). "Afro-Peruvian music is more sensual than the African-derived music of other countries," Tania explains. "Rhythms like lando create a very special air – a unique quality – that doesn't exist in the Black styles of Colombia, Central America, Puerto Rico or Cuba."
Discography:
Con La Orquesta De Andres De Colbert ‎(RCA, 1968
Mejor Que Nunca ‎(RCA Victor, 1969
Soy Peruana ‎(RCA Victor, 1970
Despertar ‎(Virrey, 1971
En Primer Plano ‎(Virrey, 1972
La Contamanina ‎(Virrey, 1973
Concierto En La Voz De Tania Libertad ‎(Virrey, 1974
La Dulce Voz De: ‎(Virrey, 1974
Alguien Cantando Philips, 1982
Como Una Campana (De Cristal) ‎(Philips, 1984
Me Voy Pa'la Pachanga ‎(Philips, 1986
Nuevamente… Boleros Mercurio, 1987
TrovaTrovadiccion ‎(NGS, 1987
Alfonsina y El Mar (CBS, 1989)
Mexico Lindo y Querido (Columbia, 1989)
Razón De Vivir (CBS, 1989)
Mucho Corazón (CBS, 1989)
Canta A José Alfredo Jiménez (CBS, 1990)
Boleros de Hoy (Columbia, 1991)
Africa En America ‎(Sony Music, 1995)
Amar Amando ‎(Sony Music, 1995)
Himno Al Amor ‎(Dende Records, 1997)
Armando La Libertad ‎(Azteca Music, 1998)
La Libertad De Manzareno ‎(Columbia, 1998)
Costa Negra (Lusafrica, 2001)
Negro Color (Lusafrica, 2004)
Arias De Opera – ¿Y… Por Qué No? ‎(Telmex, 2010)