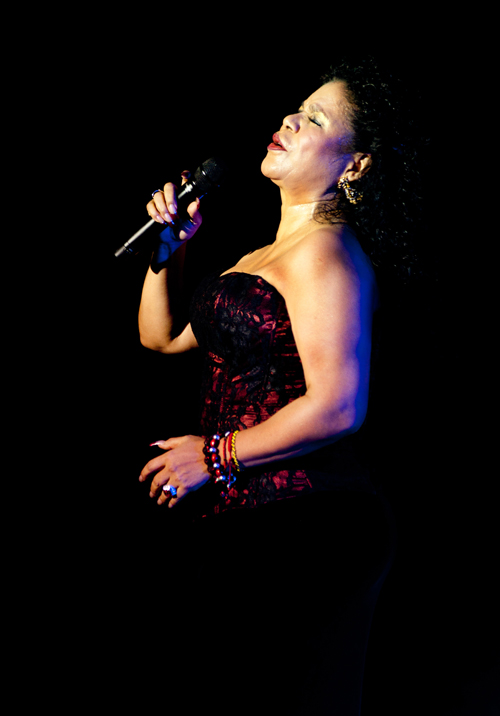 One of the most important interpreters of Peruvian music, Eva Ayllón began singing at the age of three, under her grandmother's tutelage. Within a few years she was singing at youth competitions and on television and radio. During that time, she also developed herself as a leading exponent of "musica criolla."
Her Peruvian discography counts more than 20 albums, and she has received more than 8 awards in Peru.
In 1989 she formed, Los Hijos del Sol, together with Alex Acuña. The group represents an all-star cast of Peruvian musicians, reunited with the purpose of refreshing and promoting Peruvian music for the world. The musicians came together in 1989 to record a project that draws on traditional Peruvian genres – known popularly as "m?sica criolla" – developing them in a context of more sophisticated arrangements and unconventional instrumentation. The project lasted for several years, as Peruvian musicians from all corners of the world returned to Peru periodically to perform and record, and created tremendous influence on the music scene in Peru. The original recordings and the subsequent live performances of Los Hijos del Sol established a landmark in the history of Peruvian music.
As a solo artists, Ayllón focuses on the elegant and lively genres of the coastal plains of Lima in particular. She is known for singing the land?o the festejo, and the vals; all mestizo blends of Peru's indigenous, African, and Spanish musical heritage. Call-and-response, complex syncopation, and polyrhythms combine with sweet, melancholic melodies to create a sound unique to Peru's diverse ancestry.
Eva Ayllon moved to the United States in December. She started a new life in New Jersey with her husband and two children. Peru South America
Discography:
Los Kipus Con Eva Ayllón (Odeon Del Peru, 1977)
Esta Noche… (Sono Radio, 1979)
Al Ritmo De… (Sono Radio, 1980)
Señoras Y Señores… (Sono Radio, 1981)
Cuando Hacemos El Amor (Sono Radio, 1982)
Eva Ayllon (CBS Discos Del Peru, 1983)
Ritmo Negroide Al Estilo De… (Sono Radio, 1984)
Eva Ayllón en Escena (CBS Discos, 1984)
Para Mi Gente (CBS Discos Del Peru, 1985)
Para Todos (CBS Discos Del Peru, 1986)
Huellas (CBS Discos Del Peru, 1987)
Gracias A La Vida (Discos Independientes, 1993)
Para Tenerte (Discos Independientes, 1994)
Ritmo Color y Sabor (Discos Independientes, 1996)
To My Country – Contemporary Peruvian Music (Nido, 2002)
Eva! Leyenda Peruana (Times Square Records, 2004)
Kimba, Fa, Malambo, Neque (Play Music & Video, 2009)
40 Years Of Afro Peruvian Classics (2010)
Celebra 40 Años Enamorada Del Perú (11y6 Discos, 2010)
Eva Ayllón + Inti Illimani Histórico (SURA, 2012)
Mujeres Con Cajones – Live At Miami-Dade County Auditorium (Angels' Dawn Records, 2014)