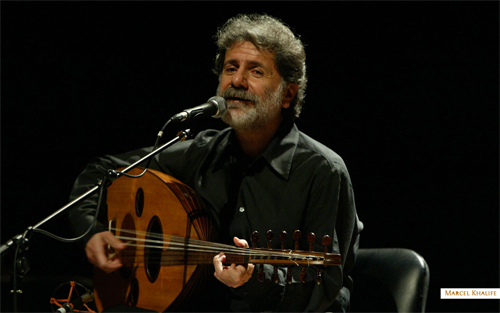 Marcel Khalife was born in 1950 in Amchit, Mount-Lebanon. He studied the ud (the Arabic lute, also known as oud and l'ud) at the Beirut National conservatory, and, ever since, has been injecting a new life into the ud. "My grandfather was a fisherman and he used to sing songs of the sea," Khalife recalls. "Then I used to go to church and listen to Christian music, and also to Islamic recitations of the Koran. In Lebanon we have a marriage of Islamic and Christian culture. That really helped to form my musical awareness."
From 1970 to 1975, Marcel Khalife taught at the conservatory and other local institutions. During that same period, he toured the Middle East, North Africa, Europe and the United States giving solo performances on the ud.
Ud playing was traditionally constrained by the strict techniques that governed its playing. Highly talented and skillful musicians such as Marcel Khalife were, however, able to free the instrument from those constraints and thus greatly expanding its possibilities.
In 1972, Marcel Khalife created a musical group in his native village with the goal of reviving its musical heritage and the Arabic chorale. The first performances took place in Lebanon. 1976 saw the birth of Al Mayadeen Ensemble. Enriched by the previous ensemble's musical experiences, Al Mayadeen's notoriety went well beyond Lebanon. Accompanied by his musical ensemble, Marcel Khalife began a lifelong far-reaching musical journey, performing in Arab countries, Europe, the United States, Canada, South America, Australia, and Japan.
During Lebanon's civil war, he risked his life performing in bombed out concert halls, bringing his music and the great poetry of the Arab world to his war-ravished country. "Since I was born," he says, "I've felt I had a rebel's soul within me. I rejected things that might be inherited, but that were wrong."
In 2002, European television networks broadcast a documentary on Marcel Khalife. A DVD, entitled Voyageur, expands the original 90-minute program into a three-hour feature with additional performances filmed at concerts and in studios. In all, the DVD presents 33 selections from Khalife's repertoire, which ranges from compositions for solo ud and vocal settings of Arabic poetry to orchestral compositions, films cores and ballets.
In 2003, the San Francisco International Arts Festival (SFIAF) and The San Francisco World Music Festival announced a commissioned project for the creation of a new evening length orchestral work with libretto by Marcel Khalife, in collaboration with the San Francisco Chamber Orchestra (music director, Benjamin Simon) and women's vocal ensemble, KITKA (artistic director, Shira Cion) and soloists Omayma Al-kalil (vocals), Rahman Asadollahi (garmon: Azerbajani accordion), Hai Pu (Chinese percussion) and Zhang Xiao-Feng (erhu: Chinese fiddle). The theme of the new work was "Embracing Global Peace."
About his CD Caress Khalife says, "This work attempts to elevate Arabic music to a level that allows it to express profound human emotions, not by mere performance, but by empowering the music to mature and develop into a universal language of expression."
His composition is noted for being deeply attached to lyrical text. Through his association with great contemporary Arab poets, most notably Palestinian poet Mahmoud Darwish, he seeks to renew the character of Arab song, breaking its stereotypes and advancing the culture of the society that surrounds it.
"I do not fit in a cultural box, nor do I want to," says Khalife, who now lives in Paris. "I have strived all my life to break free of old traditional constraints, to let music speak for itself unshackled by predetermined traditional rules. I have defied identities and categorizations, which only serve to blind us to the vastness and complexity of humanity. There are no set lenses with which I should be looked at. My music, it all comes together for the sake of humanity."
The second trait has been a consistent message of peace and justice. In 2004, during his US tour, he said: "More than ever, we all have to work much harder for peace…Peace cannot be imposed upon a people by a certain political power or agenda. Peace is achieved through respect, understanding of others and their culture; it is achieved by giving up fear of others; it is achieved through dialogue."
Discography:
Promesses De La Tempête – Promises of the Storm (Le Chant Du Monde, 1976)
Ghinä'iyat Ahmad Al Arabi (1984)
Dreamy Sunrise ‎(Nagam Records, 1990)
Peace Be With You ‎(Nagam Records, 1990)
Ode To A Homeland (Nagam Records, 1990)
Summer Night's Dream (Nagam Records, 1992)
Of All The Beautiful Mothers (Nagam Records, 1994)
Arabic Coffeepot (Nagam Records, 1995)
Jadal (Nagam Records, 1995)
Magic Carpet ‎(Nagam Records, 1998)
The Bridge ‎ (Nagam Records, 2001)
Concerto Al Andalus (Nagam Records, 2002)
Stripped Bare (Nagam Records, 2002)
At The Border ‎(Nagam Records, 2003)
Happiness ‎(Nagam Records, 2003)
Caress (Nagam Records, 2004)
Taqasim ‎(Connecting Cultures, 2007)
Sharq (‎Connecting Cultures, 2007)
Fall Of The Moon (Nagam Records, 2012)