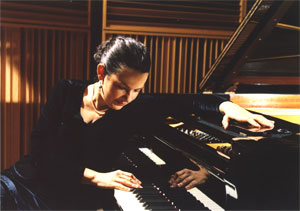 Colombian pianist and composer Claudia Calderón was born in Palmira, Colombia in 1959. She moved to Venezuela in 1987.
She has specialized in performing music from the Venezuelan and Colombian traditional sources, as well as performing classical, romantic and contemporary piano repertoire, often playing her own compositions. Based on traditional harp music, Claudia Calderon's folkloric piano music preserves and promotes the ethnic music of the mountains, plains and coasts of Venezuela and Colombia.
After studying in her native Cali and Bogotá , she graduated in piano performing at the Musikhochshule in Hanover, Germany. She also studied courses in Italy under pianist Gyorgy Sandor and composition Professor Diether De La Motte.
Claudia Calderón has held teaching positions in several Venezuelan Institutions such as Conservatory and the IUDEM, in Caracas.
She has also developed musicological research in Colombian and Venezuelan ethnic music, at the FUNDEF Institute in Caracas, and has published several papers on the specific subject of Colombian and Venezuelan harp music and joropo. She has produced and published the first complete and exact set of transcriptions of Joropo harm music from different historic ethnomusicological recordings, setting a new standard in the studies of this relatively unknown genre.
Mrs. Calderón has toured extensively in solo and chamber music formations in Colombia, Venezuela, England, France, Germany, South Africa and Mexico.
Discography:
El Piano Llanero​ (Fundación Bigott, 2001)
Piano de Pedro Morales Pino​ (Banco de la República, 2004)
El Piano Llanero II​ (Fundación Bigott, 2007)
Piano Xarocho​ (Fundación Arpamerica, 2011)