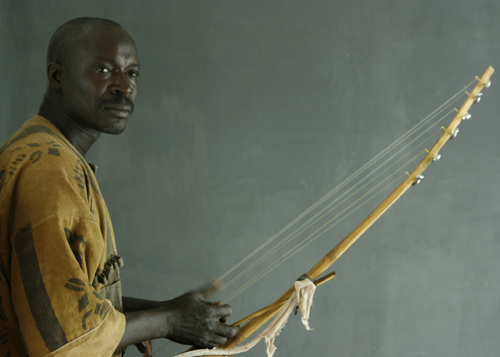 Issa Bagayogo was known as "Techno Issa" in his homeland of Mali. He topped the charts in 2002 with Timbuktu, an album that spawned a host of imitators hoping to match his blend of Malian roots music and Western dance technology. But no one's been able to pull it off as convincingly and as elegantly as Issa did.
Blurring the line between old and new is something that Bagayogo did since his first album, Sya, in 1998. He used the classic combination of a lone male voice and a small female chorus, in a call-and-response pattern; and in the tradition of Malian singers, who have always addressed social concerns, he often broke into a kind of speech-song that sounded like a distant ancestor of rap. His lyrics, too, bridged old and new. Traditional concerns like ethnic and cultural pride were side by side with songs about AIDS and drug use.
Bagayogo himself kicked a nearly decade-long drug habit before recording his album Sya. He used the ngoni. The 3-string n'goni is considered a spiritual instrument so Bagayogo used the 6-string version, which is more suitable for secular music.
Tassoumakan (meaning "Voice of Fire") was Issa's third full-length CD for Six Degrees, and representrd the maturing of an artist who had found a way to honor his country's great musical traditions while creating a truly global, modern sound. His recordings were made in Bamako, Mali's capital city, rather than one of the Afropop hit factories in Paris or London. Yves Wernert's studio was set up in Mali in the early 1990s with the goal of allowing the musicians there to create their own brand of new music, and Bagayogo did that. His band included some of Mali's top guitarists, like Karamokou Diabate and Mama Sissoko, and the result was an organic mix of West African and Western pop.
Discography:
Sya (Six Degrees Records, 1999)
Timbuktu (Six Degrees Records, 2002)
Tassoumakan (Six Degrees Records, 2004)
Mali Koura (Six Degrees Records, 2008)