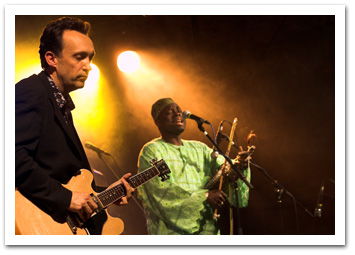 JuJu is Justin Adams (electric guitar, bendir, backing vocals), Juldeh Camara (lead vocals ritti talking drum),Billy Fuller (bass) and Dave Smith (drums percussion).
JuJu's successful hybrid sound was evident on their acclaimed 2007 debut 'Soul Science' and its equally praised follow up 'Tell No Lies'. 'In Trance' came out in 2011, combining rock, African music, dub reggae and avant-garde jazz.
"Justin's playing gets inside my body and I can hear the music in his head," said Camara. "Justin plays African style."
The In Trance recording took place at Real World Studios featuring new band members Dave Smith and Billy Fuller.
Juldeh Camara is a Gambian singer and ritti maestro who was taught to play the single-string West African fiddle by his blind father who himself was taught directly by the jinn. Having lived and worked in traditional Fula society as a griot, the hereditary poets praise singers and musicians who carry the cultural knowledge of their people.
Justin Adams is widely regarded as one of England's most innovative and original guitarists and a child of punk whose long and varied resume includes producing albums by Saharan desert bluesmen Tinariwen and collaborating with the iconic Robert Plant, Peter Gabriel and Jah Wobble.
Bassist Billy Fuller has collaborated with Massive Attack, triphoppers Malachai and Robert Plant and The Strange Sensation (in which Adams plays lead guitar.
Dave Smith is one of the finest and most versatile young drummers in Britain. He's influenced by West African percussion and classic jazz drumming.
"The whole album evolved in a very fast and spontaneous manner," says Adams. "We just went into the studio and did five live takes without headphones or overdubbing. We set out to make swing music dance music trance music; we got all those things."
Discography:
Soul Science (World Village 2007)
Tell No Lies (Real World Records 2009)
In Trance (Real World Records 2011)