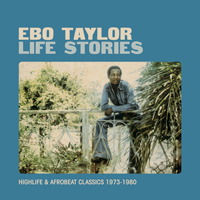 Following his first international solo release with Afrobeat Academy, Love And Death, Ghanaian highlife guitar legend Ebo Taylor teams up again with Strut Records for a long overdue definitive compilation of his seminal 1970s recordings, titled Life Stories.
During Ghana's highlife explosion in the 1950s and '60s following wartime highlife pioneers like E.T. Mensah, Ebo Taylor made his name as a prolific composer, arranger and frontman leading two of Ghana's greatest big bands – Stargazers and Broadway Dance Band. Moving to London to study music in 1962 alongside West African luminaries like Fela Kuti and Peter King, Taylor formed the Black Star Highlife Band and began incorporating jazz elements into traditional highlife forms.
Returning to Ghana, Taylor became an in-house arranger and producer for Dick Essilfie-Bondzie's Essiebons label, working with other major Ghanaian stars like C.K. Mann and Pat Thomas. Through the '70s, he then recorded a number of solo projects, exploring unique fusions and borrowing elements from regional Ghanaian folk music, Afrobeat, jazz, soul and funk.
Life Stories revisits this heyday of Taylor's work, focusing on his solo albums and some of his lesser known side projects including the dynamite Apagya Show Band and short-lived Taylor-led combos Assase Ase, Super Sounds Namba and The Pelikans. The selection also touches on his writing and production work for C.K. Mann and a collaboration recording with fellow member of early '70s nightclub band Blue Monks, Pat Thomas.
Tracks include the anthemic "Heaven," sampled by Usher on his hit with Ludacris, "She Don't Know," the original version of the poignant "Love And Death" and the rare 15-minute nugget, "Aba Yaa." The package features rare photos, original album artwork and sleeve notes by Soundway Records' Miles Cleret.
Ebo Taylor Life Stories will be released in 2CD, 2LP, and digital formats. He will be touring with Afrobeat Academy from late January 2011.
CD 1
1. Ebo Taylor – Heaven 6.06
2. Ebo Taylor – Atwer Abroba 8.15
3. Ebo Taylor – Victory 4.23
4. Assase Ase – Ohiani Sua Efir 4.02
5. Apagya Show Band – Kwaku Ananse 3.12
6. Ebo Taylor – Peace on Earth 7.48
7. Ebo Taylor – Aba Yaa 15.01
8. Pat Thomas & Ebo Taylor – Ene Nyame Nam !A! Mensuro 6.20
CD 2
1. Apagya Show Band – Tamfo Nyi Ekyir 3.57
2. Ebo Taylor – Love and Death 8.23
3. Ebo Taylor – Ohye Atar Gyan 6.09
4. Super Sounds Namba – Yes Indeed 4.59
5. Apagya Show Band – Mumude 3.03
6. Ebo Taylor – What Is Life 4.43
7. C.K. Mann Big Band – Etuei 6.29
8. Ebo Taylor & The Pelikans – Egya Edu 10.01
Recordings available:
Video interview: Ebo Taylor's Journey Through African Music