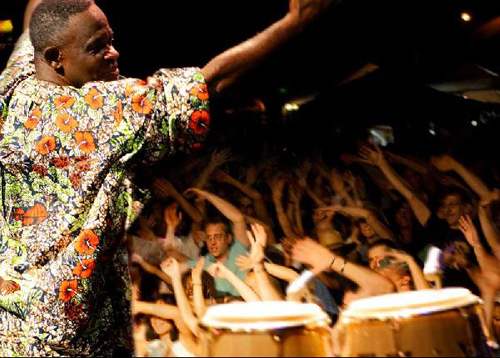 Samba Mapangala was born Congolese, on the banks of the Congo River, in Matadi, the busy port city 100 miles up from the river's mouth on the Atlantic Coast. But he's never stayed in one place for very long. Orphaned in childhood, he found his way to Kinshasa while still a teenager and began singing in nightclubs there. In 1975 he led a group of musicians calling themselves Les Kinois (The Kinshasans) on a long safari eastward, arriving two years later in Nairobi, Kenya. And Kenya was where Samba's career took off.
Congolese rumba had been popular in Kenya since the 1950s. Les Kinois were but one of dozens of Congolese bands based in Nairobi in the late 1970s, but they had no trouble landing gigs and soon they were making records. Samba, however, wasn't interested in playing only Congolese rumba. He liked the local styles as well, particularly the Swahili swing of bands like Orchestra Volcano, Morogoro Jazz and Simba Wanyika. In 1980 he left Les Kinois to form Orchestra Virunga (named after a volcano in eastern Congo) with both Kenyan and Congolese musicians.
With Samba writing and singing songs in Congolese Lingala and Kenyan KiSwahili, Orchestra Virunga rapidly became the top band in Nairobi. From there its fame spread to the rest of East Africa and eventually to Europe, where Earthworks released Maiako in 1984. Samba himself made his first visit to Europe in 1989, when he recorded an album with Quatre Etoiles in Paris. Two years later he returned for a tour with Orchestra Virunga, after which the singer and his band stayed in London to record Feet On Fire for Stern's Africa. From there the touring rarely let up, from Africa to Europe to North America, back to Africa and around again. Somehow Samba and Virunga found the time to record two more albums.
In 1997, following a successful but exhausting North American tour, Samba decided to settle in one place (a small town in Maryland) and take a break from the musician's peripatetic life for a while. Three quiet years passed, but the time came when the Virunga Volcano couldn't lie dormant any longer. Samba flew to Paris, gathered a half dozen of the best Congolese musicians there, engaged Bopol Mansiamina to serve as his co-producer, and made Virunga Volcano.
With Ujumbe (message in KiSwahili), Samba upheld the standard he set ten years earlier with Feet On Fire, and maybe even surpasses it. The album had everything Virunga fans wanted: the rumba-congo that Samba's been singing all his life; the lighter, looser Swahili swing that he's popularized far and wide; and the sleek Congo-Parisian soukous that Samba ignites as very few others can these days all graced by the man's soulful tenor and his band's effortless skill. This album also includes a first for Orchestra Virunga: an acoustic song ("Muniache") in the style of Jean Bosco Mwenda, the troubadour who first brought Congolese music to Kenya 50 years ago.
Discography:
It's Disco Time with Samba Mapangala (1982)
Evasion (1983)
Safari (1988)
Vunja Mifupa (CBS Kenya, 1989)
Paris-Nairobi (1990)
Virunga Volcano (Earthworks, 1990)
Feet On Fire (Stern's Africa, 1991)
Karibu Kenya (Sun Music, 1996)
Vunja Mifupa (Lusam, 1997)
Ujumbe (Stern's, 2001)
Vunja Mifupa Virunga Roots Volume 1 (2004)
Song and Dance (Virunga Records, 2006)
African Classics (Sheer Sound, 2008)