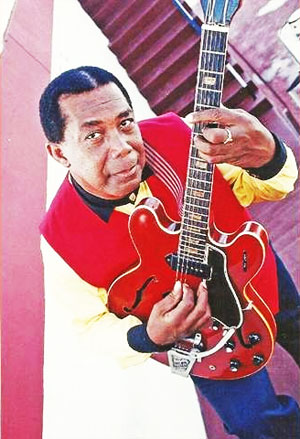 Joey Lewis, who, for 6 decades, led the longest -running, and last of Trinidad's popular dance orchestras, died in the early hours of February 8, at 78. Diagnosed with colon cancer in 2011, he effectively stopped playing with the band (originally called the Teenagers) in 2012, weakened by the effects of chemotherapy.
Born on October 26th, 1937, in Gonzales, east Port of Spain, into a family of musicians (his father played guitar, and his mom sang), he began in the bands of elder brothers, Randolph, and Sonny.
Able to play any instrument, he first took to the piano – his electric keyboard riffs on an instrumental version of 1974's "You'll Always Be A Friend" by British group, Hot Chocolate, stand out- but the guitar made him popular.
In 1955, the Teenagers became the Joey Lewis Orchestra; its sound distinctly Trinidadian/calypso, but with strong Latin and jazz influences and elements.
He and the orchestra added the nickname 'Pal', after (seeing) the 1957 American film, 'Pal Joey', starring Frank Sinatra and Rita Haywood.
His 1960 hit, "Joey's Saga", in support of the 'Saga Ting' dance craze, introduced his unique guitar-strumming style, and saw them as the 1st to play on local television (as resident for the 'Dance Party' series).
In the golden era of dance bands (late 1940s to late 1970s), the Pal Joey Lewis Orchestra, with loyal members(, including, for 52 years, until his death in 2009, saxman, George Boucaud), took its place at the top, alongside those led by 'Sir' Sel Duncan, Clarence Curvan, the Dutchy (deVlugt) Brothers, and Fitz Vaughn Bryan.
It produced music for and to accompany the costumed masquerade bands on carnival parade days, and worked and recorded with established calypsonians such as the Mighty Sparrow, the Mighty Terror, the Mighty Duke, and soca (or party calypso) pioneer, Lord(later Ras) Shorty, as well as Barbados-born Singing Francine.
And, at a time when radio restricted the airplay of calypsos after carnival (especially in Lent), Joey Lewis' instrumental versions helped maintain the genre's profile, and, in the dances, popularity.
He toured North America(, meeting Harry Belafonte and jazz legend, Dizzie Gillespie, in 1964, briefly setting up base in Canada, in the early 1970s), the Caribbean and Europe, won the 'Brass-o-Rama' contest(, in which bands rendered instrumental arrangements of calypsos) in the carnival of 1979, and, in 2002, as Trinidad andTobago celebrated 40 years of independence, received a national award (the Humming Bird Medal) for his 'services in the field of music'.
In all, the Joey Lewis Orchestra issued 83 albums, 142 singles and 12 CDs, (some, early on, for the RCA label) of originals like " Pint of Wine", "Bound To Dance" and "Debbie", and covers (Kris Kristofferson's "Why My Lord" and the Cuban classic, "Peanut Vendor", among them), vocalists engaged sparingly; and continued entertaining sold-out audiences and lovers of ballroom dancing across the country all year 'round to the present.
Clarence Curvan met Joey Lewis in brother, Sonny's, band, before both went off to form their own. The two teamed up, a few years later, to create JoVan records. Now based in, and working out of New York City, USA, he remembers Joey " …recommending that promoters hire me, even before I had a record. That…says a lot about his character. We maintained our relationship to the end".
Another long-standing musician, saxophonist, Roy Cape, leader, from the late 1970s, of the All Stars, that backed calypsonians in the tents, and fetes (parties) but records mostly soca tunes, started with Curvan, after failing a 1961 audition with Lewis. He described him as "…a Rock of Gibraltar…with a huge influence on local music".
'Pal' Joey Lewis ( October 26, 1937- February 8, 2016) leaves to mourn his wife of 52 years, Julia, children, Gerry (part of the orchestra since the 1980s, eventually assuming leadership), Joanne, Charmaine, Debra (about whom "Debbie" was written), Benedict, Judy and Gail, 8 grandchildren, 4 great grandchildren, and sister, Jean.
from Sean Edwards, Power102FM, Port of Spain, Trinidad