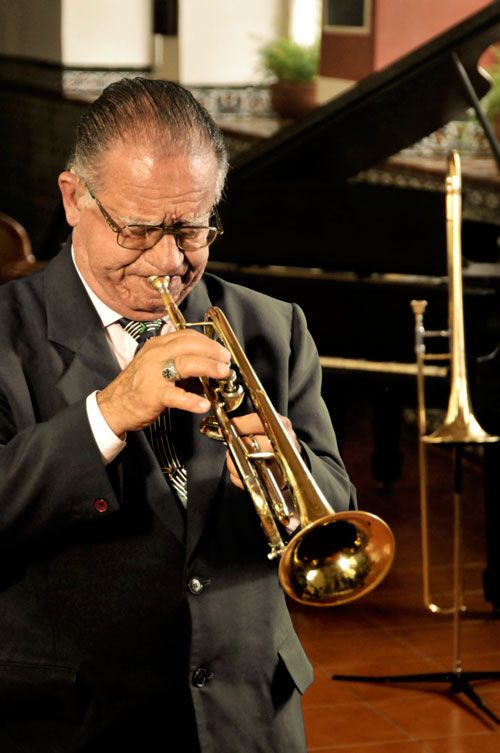 Luis Manuel Mirabal Vázquez, better known as Manuel El Guajiro Mirabal, was born May 5, 1933. He has been a key figure in the Cuban music scene for over 50 years and has played with most Cuban stars. He one of the most known and respected trumpet players in Cuba. He founded Conjunto Rumbavana and has played with Riverside Jazz Orchestra, the ICRT, the Orquesta Cubana de Música Moderna and most recently, the Buena Vista Social Club.
During World Circuit's now famous recording sessions in Havana in 1996, Guajiro featured on all three of these seminal albums: Afro-Cuban All Stars A Toda Cuba Le Gusta, Buena Vista Social Club, and Introducing Rubén González.
The trumpet occupies a hugely important role within Cuban music, and Guajiro is its archetypal exponent, making him the unquestioned choice as the trumpet soloist for all three albums. The phenomenon that followed these releases has brought about a renewed reverence for artists such as Guajiro, who is now in greater demand than ever.
For his debut solo album, Guajiro Mirabal made a tribute to the spirit of the legendary giant of Cuban music, Arsenio Rodriguez. All of the tracks on the album were written by or associated with Arsenio. The music was performed by a specially assembled group in the style of Arsenio's great trumpet led conjuntos of the 1940s and 1950s.
Recorded in Havana's iconic Egrem studios, the ensemble featured on Buena Vista Social Club Presents: Manuel Guajiro Mirabal is an A-list cast of Cuba's finest musicians. With a driving percussion section including Miguel 'Angá' Diaz, Amadito Valdés, and Carlos González, combined with the double bass of Orlando 'Cachaito' López, the keys of Roberto Fonseca, and Manuel Galbán on acoustic guitar, one can feel the fire and passion in these recordings. Vocalists on the album include Calunga, a rising star of the timba scene in Cuba, and Ibrahim Ferrer, who makes a guest appearance on the album, singing lead vocals on 'Deuda'.
The all important trumpet section consists of Guajiro, his Tropicana partner of almost thirty years Luis Alemañy, and the late Alejandro Pichardo Perez, to whom Buena Vista Social Club Presents: Manuel Guajiro Mirabal is dedicated. Featured soloists on the album include Papi Oviedo on tres and Roberto Fonseca on piano. The closing track 'Dombe Dombe' has Arsenio's original pianist, the great Rubén González, perform a piece that he specifically requested be included on this album.
Buena Vista Social Club Presents: Manuel Guajiro Mirabal was recorded almost entirely live in the studio, with minimal overdubs, thus giving it a more spontaneous, late night feel, allowing the musicians room to flex their musical muscle. There is a great deal of warmth and humor throughout Arsenio's music and that is certainly the case with this recording.
In 2004 Mirabal released an album in partnership with Buena Vista Social Club entitled Buena Vista Social Club Presents Manuel Guajiro Mirabal.