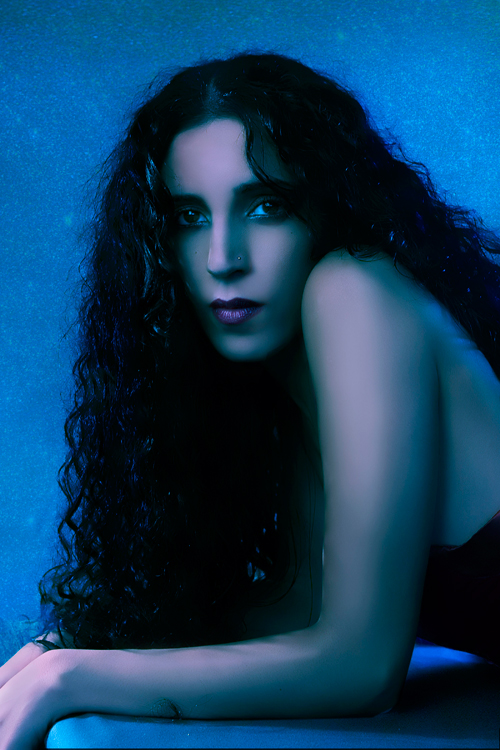 Azam Ali is internationally recognized for her work with Vas and Niyaz. Vas was the critically-acclaimed, best selling, world music duo she co-founded in 1996 with percussionist Greg Ellis. From 1997- 2004 Vas released four albums on the Narada label. Their music, which they described as "alternative world," focused mainly on the ancient relationship between the drum and voice.
Their distinct cinematic sound blended influences of Indian, Persian, Western and other musical styles into a unique configuration that transcended categorization and cultural specificity. Though in their early days Vas drew many comparisons to Dead Can Dance, they patiently surpassed that comparison with each album they released, earning them their place in the musical hierarchy of bands whose innovation set a standard to which others to aspire.
In 2002 Azam released her first self produced highly successful solo album, Portals of Grace, which featured her singing renditions of ancient Western European medieval songs. Azam?s exceptional voice and emotive performances on this album earned her much critical acclaim and once and for all solidified her place as a highly respected singer in the World music scene.
Azam Ali, who resided in Los Angeles for several years, was born in Tehran, Iran and grew up in India from the age of four in the small town of Panchgani, a beautiful hill station in the state of Maharashtra. There she attended an international co-educational boarding school for eleven years, all the while absorbing India's rich music and culture throughout her formative years.
The course Azam would eventually choose in her life would be very much influenced by her fortuitous upbringing in a school that emphasized the importance of the arts and spirituality, and aimed through moral and academic excellence, to produce promoters of social transformation imbued with the spirit of service to humanity. It is this objective that would take shape in Azam's music in the coming years.
The Iranian revolution of 1979 changed the course of Azam's life as it did for many other Iranians. Unwilling to bring her daughter back to a country filled with uncertainty, her mother decided to give up her home, and together they moved to America in 1985 when Azam was just a teenager.
Shortly after moving to the United States, Azam fell in love with the Persian santur (hammered dulcimer) and it became clear to Azam that she wanted to pursue a career in music.
Though she had an innate gift for singing since she was a child and sang often at home and school functions, Azam had no particular interest in becoming a vocalist. She had her heart set on becoming an instrumentalist and so began studying the santur under the guidance of Persian master Manoocher Sadeghi.
During the eight years of her extensive studies with Ustad Sadeghi in which she became an accomplished hammered dulcimer player, Azam began to realize that she was unable to express the full range of emotions she experienced through her instrument. It was during one of these lessons that her teacher heard her sing for the first time. Completely taken, he told her that her voice had a rare emotional quality about it which should be cultivated and nurtured. It was through his encouragement that Azam began to explore her voice as the vehicle through which she would finally be able to fully express herself.
While pursuing formal training in various vocal traditions like Western classical, Indian, Persian, and Eastern European, Azam's true passion has been to explore the immense potential of the human voice, specifically its capability to transcend language, cultural, and spiritual barriers when expressing pure emotion. When asked about her approach to singing Azam explains, "What intrigues me most about the human voice is its ability to make all things transparent through its power of transformation. The voice is not just a conduit for words. For me it is like an abstract dream in which everything makes perfect sense."
"I am pertinacious in my need to expand. By nature, I am not one who can physically remain in one place for too long. I imagine that is the case because I have been transplanted enough times in my life that I am well aware of the influence the external environment has on the inner one, and how that can affect perception. So naturally, my music is going to reflect this inability to remain static, and this inability to identify myself with just one specific culture.
I think of all the different music that I have done and will continue to do almost as photographs of my evolution, and just like photographs, in some I may look great and in some I may not. What matters to me is that I risk, I, trust, I strive, and let things unfold as they may."
The following is Azam Ali's description of her solo work, Portals of Grace.
"Having been born in Iran and grown up in India, my introduction to the music of Medieval Europe came a little after 1985 when I arrived in the United States. What initially struck me about the music was how similar the melodic sensibility was to the music of my heritage. I could not help but feel the same shudder of awe when I first heard the music of Hildegard Von Bingen as I did when I was a child walking by temples in India and hearing prayers and chants sung through the sound of ringing bells. I felt that even though the musical approach was quite different due to cultural differences, the root desire of the music, to commune with God and sing his praises, evoked the same sentiments. At times I feel this music strikes a chord within me that is as old as my soul itself and transcends the confines and myths of illusory time and space.
It is hard for me to regard this body of work as a solo debut, given that these are all traditional pieces which have been around since before my lifetime and have been interpreted or recorded by numerous musical theorists and performers. I think of this album rather as a small detour from my work with Vas, not only to pay tribute to some of the music and composers that have inspired me on my musical journey, but to explore through these compositions the correlation between the music of Medieval Europe and the music of the Arab world.
Although any evidence as to the influence of Arabic music on the music of Medieval Europe proves to be highly ambiguous, there are many that believe the influence was great. Albeit, there are many purists who dispute this theory thus shying away from introducing any Arabic elements into their work. All this having been said, it is important to note that the evidence with respect to the true performances of some of these pieces, is veiled in the mystery of that time thus leaving much room for the numerous interpretations and theories that exist.
My intent was to give this music a contemporary feel in hopes of exposing its beauty to people who with absolutely no reference point may find the more purist, academic approach to be too austere or inaccessible. However, having a vast collection of Medieval music myself, I highly encourage anyone who responds to the works here to seek out the source of where this music comes from and to discover this magnificent treasure trove of our human legacy. It is for this reason I decided to show the many colors of Medieval music by uniting the works of various regions and composers on one canvas.
But mainly my desire to do this project was born of a need to communicate with this music in my own way; to honor the memory and echo the sentiments of all the magnificent voices that have sung these songs throughout the ages and kept them alive for all of us. I have abandoned all rules and restrictions in order to interpret these songs and chants in a way most natural to me and have sung them as honestly as possible, given that I do not speak the languages represented.
I believe that all artistic creation is a direct response to an innate call each artist receives. Sometimes that call comes in the form of nature, love, an experience etc., but for me that call has most often come in the form of music. I am constantly interacting with the music that I discover and love. I see this interplay as an ongoing dialogue and a longing in our quest for the divine. In Medieval times the voice was regarded in the highest esteem, above all other instruments, for it reflected the purest image of God. I share this sentiment in that for me singing and praying are one in the same.
I see the human voice as a reflection of our truest self that is within us, through which we can mirror forth, either through prayer or song, the beauty and the Grace of God."
Azam's immense talent and ability to adapt her voice to any musical style have drawn the attention of many diverse artists and film composers. Azam has collaborated in the studio and on stage with numerous artists: Serj Tankian of System of a Down, The Crystal Method, Pat Mastellato and Trey Gunn of King Crimson, Dredg, Chris Vrenna formerly of Nine Inch Nails, Ben Watkins of Juno Reactor, Buckethead, Steve Stevens, film composer Tyler Bates, Mercan Dede, the world renowned Japanese group Kodo, Zakir Hussain, Omar Faruk Tekbilek, and Mickey Hart with whom she also toured for two years as a lead singer in his group Bembe Orisha.
Loga Ramin Torkian and Carmen Rizzo were Azam's original collaborators in her latest musical venture, Niyaz. Released on Six Degrees Records, the debut album Niyaz blended ancient Persian and Urdu Sufi poetry, rich acoustic instrumentation, and modern electronics.
Although originally formed in California in 2004, Niyaz is currently based in Montreal, Canada. The most recent version of Niyaz features Loga Ramin Torkian and Azam Ali.
Azam's distinctive voice can also be heard on numerous film and television scores among which include Matrix Revolutions, Godsend, Papparazi, 300, Children of Dune, Earthsea, Dawn of the Dead, Alias, and The Agency.
Discography:
Solo albums
Portals of Grace (Narada, 2002)
Elysium for the Brave (Six Degrees, 2006)
Green Memories (Lilasound, 2008)
From Night to the Edge of Day (Six Degrees, 2011)
Lamentation of Swans – A Journey Towards Silence (Terrestrial Lane Productions, 2013)
With Vas
Sunyata (Narada World, 1997)
Offerings (Narada World, 1998)
In the Garden of Souls (Narada World, 2000)
Feast of Silence (Narada World, 2004)
With Niyaz
Niyaz (Six Degrees, 2005)
Nine Heavens (Six Degrees, 2008)
Sumud (Six Degrees, 2012)
Sumud Acoustic EP (Six Degrees, 2013)
The Fourth Light (Six Degrees, 2015)