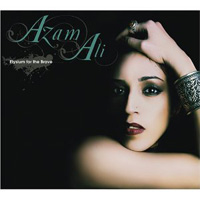 Azam Ali
Elysium for the Brave (Six Degrees Records, 2006)
Born in Iran and raised in India and the United States, Azam Ali is familiar name in world music as the lead vocalist of Vas and Niyaz, as well as a vocalist on such film scores of Children of Dune, Earthsea and Matrix Revolutions. With her second solo CD Elysium for the Brave, Ali ventures deeper into the ethereal with a voice that is both commanding and sensual.
Heavy with electronica, Ali's English and Farsi vocals weave a delicious spell more intricate than the trail of incense through a bazaar. "Spring Arrives," "In Other Worlds" and "The Tryst" are steeped in Ali's Persian roots but are transformed into a world of stratospheric sensuality with synthesizers and that wide-open feel of Ali's soaring voice.
Making something modern out of the combination of synthesizers, hammered dulcimer, frame drums, tabla, Turkish dhol, darbuka and electric guitars might be not so successful collaboration, but in Elysium for the Brave it works – it works overtime and it's wonderful.
With her reputation and career on firm footing, Ali was able to command some first class collaborators on Elysium, including Trey Gunn from King Crimson, Chris Venna from Nine Inch Nails, Mercan Dede, Turkish composer and DJ, and world music devotee Mickey Hart. Carmen Rizzo's synthesizer, programming and keyboard work makes the CD meaty while allowing Ali's vocals to shine through the musical ebb and flow of electronic and Middle Eastern influences. Ali has stirred together both east and west, ancient and modern, sultry and soulful with Elysium for the Brave.
Buy the CD:
Author:
TJ Nelson
TJ Nelson is a regular CD reviewer and editor at World Music Central. She is also a fiction writer. Check out her latest book, Chasing Athena's Shadow.
Set in Pineboro, North Carolina, Chasing Athena's Shadow follows the adventures of Grace, an adult literacy teacher, as she seeks to solve a long forgotten family mystery. Her charmingly dysfunctional family is of little help in her quest. Along with her best friends, an attractive Mexican teacher and an amiable gay chef, Grace must find the one fading memory that holds the key to why Grace's great-grandmother, Athena, shot her husband on the courthouse steps in 1931.
Traversing the line between the Old South and New South, Grace will have to dig into the past to uncover Athena's true crime.