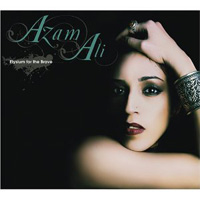 Elysium for the Brave (Six Degrees Records), Azam Ali's second solo album, signals a new turn in her musical evolution. The album, her most ambitious work to date, brings together musicians from varied musical backgrounds performing in diverse permutations. Singing predominantly in English for the first time, the songs are based on lyrics written by Azam herself and reveal a poetic lyricism heard only in glimpses of her previous works.
From the new CD's opening track, "Endless Reverie," it becomes immediately apparent that Ali has moved into new sonic territory. The frame drum pulse is familiar but the percolating synthesizer textures and haunting vocals sung in English take the song into a darkly beautiful place that exists between the worlds of electronic rock and global fusion. This terrain is also occupied by the tracks, "In Other Worlds," "In this Divide" and "Forty One Ways."While electronics and programming abound on Elysium for the Brave, they are balanced throughout the CD with traditional instrumentation. The lafta and hand drums which propel "Spring Arrives" and the insistent ney flute which lends a haunting quality to "I Am a Stranger in this World" are examples of how organic and electronic instrumentation can beautifully co-exist. Despite the mix of ancient and modern instrumentation, Elysium for the Brave is a highly coherent body of work that weaves together all of Azam's cultural and musical influences into a tapestry of atmospheric rock, electronic, and global sounds.
Helping to bring all of these diverse sounds together is a talented cast of musicians which includes King Crimson's rhythm section of Trey Gunn and Pat Mastellotto, Persian classical violinist Kiavash Nourai, and noted film composers Tyler Bates and Jeff Rona, the latter of whom is known for his collaborations with Dead Can Dance.
Loga Ramin Torkian and Carmen Rizzo, Azam's collaborators in her latest musical venture, Niyaz, have also lent their talents to this project. Released on Six Degrees Records, Niyaz's debut blends ancient Persian and Urdu Sufi poetry, rich acoustic instrumentation, and modern electronics. Their CD has been hailed by critics worldwide as one of the most groundbreaking of its time. The album debuted at #1 on iTunes world music chart and remained there for numerous weeks, and it charted on Billboard's world music chart for four consecutive weeks, peaking at #12.
Other recordings available:
In North America: Portals of Grace, Nine Heavens, Green Memories, Sunyata, Niyaz, In the Garden of Souls, Roseland featuring Tyler Bates and Azam Ali, Feast of Silence
In Europe: Portals of Grace, Green Memories, Niyaz, Nine Heavens, In the Garden of Souls, Offerings
Author:
World Music Central News Department
World music news from the editors at World Music Central