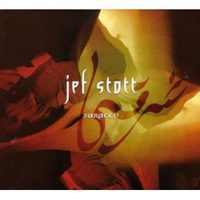 Jef Stott – Saracen (Six Degrees Records 657036 1146-2, 2008)
Sonantes – Sonantes (Six Degrees Records 657036 1148-2, 2008)
Niyaz – Nine Heavens (Six Degrees Records 657036 1150-2MJ, 2008)
Traditional music, roots music, indigenous music… whatever you choose to call it, it's something to be preserved and respected. And woe to those seeking to modernize it so much that the original intent takes a back seat. San Francisco-based Six Degrees Records, while not exclusively a label specializing in releases that mix the old with the new, nonetheless has an impressive and growing roster of artists who do justice to such combinations.
Jef Stott is a name previously unknown to me, though he's been making music for more than a decade. He certainly knows how to mess with beats, breaks, electronics and samples. Just as importantly and even more so, he plays a number of instruments and clearly understands that music is soulless without them.
Most of the players and singers he's previously collaborated with are Middle Eastern, and his attempt to take what he gleaned from them and merge it with Bay Area-electronica succeeds smartly on Saracen. He sweetens sweeping electronic beats with Arabic and Turkish lutes, crisp percussion, fat bass and more, creating a consistently engaging flow laced with standout tracks like the Gnawa-tinged "Medina Stepper." This Stott's debut album, and his combination of instrumental expertise and producing prowess make it a very good one.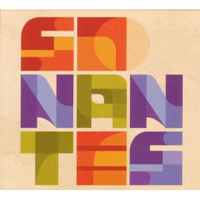 On the subject of debut releases, that of Brazilian vocalist CéU rightly earned much critical praise following its 2006 release. Sonantes isn't her second album as such, though she sings on most of the tracks. Rather, the disc is an eponymously titled group effort featuring Sao Paulo music scene stalwarts Rica and Gui Amabis (both noted composers and studio tinkerers) along with Pupillo and Dengue, drums and bass team of the band Naçao Zumbi.
The music is at least partly rooted in bossa nova, though an anything-goes sonic approach makes every track different. You can hear something of the psychedelic approach that fueled Brazil's Tropicalia movement, hints of samba, electronically-tempered funk, rock and jazz inclinations and above all a freewheeling sense of abandon stemming from the sheer joy of making music. It's a magnificent mash of an album and my only gripe is that, at just over 35 minutes, it's too short (possibly the result of the participants having other commitments).
I managed to miss out on Niyaz 's 2005 first album, and given how stirring their new Nine Heavens is, perhaps I should do some backtracking. But first a few more words about Nine Heavens (to be released on June 24th): it's rooted, as an increasing number of musical projects seem to be nowadays, in the mystical poetry of Sufism. With the great mystic poet Rumi getting his due all over the place, Niyaz (comprised of Persian-American vocalist Azam Ali, multi-instrumentalist Loga Ramin Torkian and producer/programmer/keyboard player Carmen Rizzo) instead turn their attention toward 13th century mystic Amir Khosrau Dehlavi, said to have invented the qawwali devotional music popularized by Nusrat Fateh Ali Khan, and the ghazal styled 18th century poems of Khwaja Mir Dard and Hali.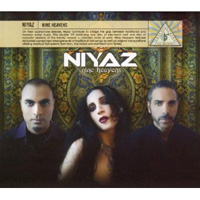 The source material is reflective of Niyaz 's blending of Persian and Indian (and on this disc, a shade of Turkish) musical sensibilities, a connection apparent in cross-cultural similarities that are centuries old and here musically beautified with the same sort of passion that inspired those ancient mystics.
The most immediately striking thing about the album is Ali's voice: her angelic, ghostly tones (which have served her well on previous solo projects and her work as half of the duo Vas) are at their strongest here and it doesn't take long to realize how much of that strength is brought to the fore through a rich weave of string, percussion and wind instruments emboldened with cavernous modern production. It's marvelous stuff, seeming to yearn for something just out of reach and yet grabbing hold of a spiritual clarity that's alternately revving and calming. And the musical/cultural duality at work here is manifested in the way the songs are presented as well: there's a second disc featuring nearly every track (minus, unfortunately, the trembling lullaby "Iman") performed acoustically. But that doesn't mean they're subdued or lessened. Indeed, the acoustic versions are every bit as thunderous a combination of possessed dance rhythms and inward meditation as their plugged-in counterparts, and the seamlessness of the Persian/Indian fusion is even more striking. Highly recommended.
Buy the CDs of MP3 downloads:
Author:
Tom Orr
Tom Orr is a California-based writer whose talent and mental stability are of an equally questionable nature. His hobbies include ignoring trends, striking dramatic poses in front of his ever-tolerant wife and watching helplessly as his kids surpass him in all desirable traits.