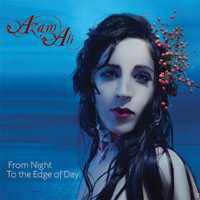 Azam Ali
From Night to the Edge of Day (Six Degrees Records, 2011)
Azam Ali's hauntingly lovely voice should be a familiar one considering her collaborations with Mickey Hart, System of a Down, King Crimson, Nine Inch Nails and a film score credit on the blockbuster 300. Stepping out for a solo recording from her work as part of the trio Niyaz, Ms. Ali has chosen a series of Azerbaijani, Iranian, Lebanese and Turkish lullabies for From Night to the Edge of Day. Drawing from her own experience as a new mother, Ms. Ali has delved deep into the dream world, past and present, a place where mothers' wishes float down onto the heads of their children.
Collecting lullabies from minority communities often oppressed or conflict afflicted areas from across the Middle East, Ms. Ali explains, "You go to the Middle East, and the West is blamed for everything. However, many of our problems stem from our own way of thinking, from cultural divisions, interethnic conflict. No matter what culture you are, we are all the same at the core. Lullabies communicate this. And that perspective alone can change a lot of things."
Expertly produced and richly worked, From Night to the Edge of Day is both soulful and mournful without any a single shred of saccharine sweetness sometimes found on other lullaby recordings. Sophisticated, lush compositions unfold through a tapestry of vocals and a lineup of first class musicians, making this From Night to Edge of Day a soothing delight for the restless baby in each of us.
Wrapped up in the brightly colored exoticism of santur, oud, violin, electric saz, drones, frame drum, riqq and bender against Ms. Ali's stunning vocals, From Night to the Edge of Day flows both profound with meaning and sweet with expression throughout the Iranian lullaby "Noor," the traditional Turkish lullabies "Dandini" and "Neni Desem" and the inexpressibly lovely "Shirin," a traditional lullaby from Azerbaijan. Equally wonderful are "Mehman," lyrics taken from a traditional Iranian text, and the Kurdish lullaby "Lai Lai" with Ms. Ali composing the music for both.
It's impossible not to fall under the spell of Ms. Ali's vocals or the sumptuous feel of these remarkable lullabies. Through these lullabies From Night to the Edge of Day captures the soulfulness of every mother's love.
Buy the album:
In North America: From Night to the Edge of Day. Other recordings available: Portals of Grace, Elysium for the Brave, Nine Heavens, Green Memories, Sunyata, Niyaz, In the Garden of Souls, Roseland featuring Tyler Bates and Azam Ali, Feast of Silence
In Europe: From Night to the Edge of Day. Other recordings available: Portals of Grace, Elysium for the Brave, Green Memories, Niyaz, Nine Heavens, In the Garden of Souls, Offerings
Author:
TJ Nelson
TJ Nelson is a regular CD reviewer and editor at World Music Central. She is also a fiction writer. Check out her latest book, Chasing Athena's Shadow.
Set in Pineboro, North Carolina, Chasing Athena's Shadow follows the adventures of Grace, an adult literacy teacher, as she seeks to solve a long forgotten family mystery. Her charmingly dysfunctional family is of little help in her quest. Along with her best friends, an attractive Mexican teacher and an amiable gay chef, Grace must find the one fading memory that holds the key to why Grace's great-grandmother, Athena, shot her husband on the courthouse steps in 1931.
Traversing the line between the Old South and New South, Grace will have to dig into the past to uncover Athena's true crime.