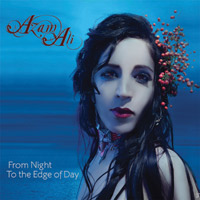 Iranian singer Azam Ali has recorded a new album where she explores Iranian, Turkish, Lebanese, and Kurdish lullabies. From Night to the Edge of Day will be released by Six Degrees Records on April 12, 2011.
The Iranian-born, Indian-raised vocalist makes traditional and newly composed songs smolder with dreamy longing, with the grief of exile in a conflict-riven world, and with a keen edge of hope.
"The birth of my son was bittersweet," singer Azam Ali reflects. "He would never meet a large part of his family. And he was not alone in this: So many children are born in diaspora, so innocent in all this. Yet they suffer the consequences of turmoil in the world."
The first night of her son's life, Azam Ali began to sing. "I was in shock, staring at this little person," Ali recalls. "I realized singing was the best way to communicate with him, without language. There's something profound about singing to a child, which is why women have done it for thousands of years."
Ali has collaborated with everyone from Mickey Hart to System of a Down, with musicians from Nine Inch Nails and King Crimson. She has appeared in film scores including 2007 box office smash, 300. She has taken global sounds in new directions as part of Niyaz, with help from producer Carmen Rizzo (Seal, Coldplay).
Lullabies began coming to Ali from various sources. Friends returning from Iran brought her a collection of traditional lyrics, including texts in Farsi dialects that became tracks like "Mehman (The Guest)." Other friends from across the Middle East sang her classic favorites (the Turkish favorite "Dandini") and obscure gems (the rarely-heard traditional Turkish song, "Neni Desem"). Her close friend, Palestinian oud player Naser Musa, spontaneously wrote a stirring lullaby for Ali's son, after speaking with Ali about her project ("Faith").
From Night to the Edge of Day features strings, Middle Eastern percussion, and contributions from virtuosic players like Musa.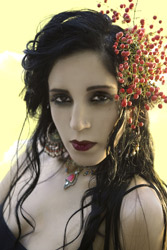 Ali chose lullabies from minority communities across the Middle East, such as Iraqi Kurds ("Lai Lai") and the Azeris of Iran ("Shirin"), in a plea for peace and an end to conflict. "You go to the Middle East, and the West is blamed for everything. However, many of our problems stem from our own way of thinking, from cultural divisions, interethnic conflict," Ali explains. "No matter what culture you are, we are all the same at the core. Lullabies communicate this. And that perspective alone can change a lot of things."
"To do this project, I worked with Kurds, Azeris, a Palestinian Christian, Iranians from all over," recounts Ali. "You could write a book about each one of them, about their difficulties in life and their diaspora. It was a profound experience for me as person."
"From childhood, we are fed all these ideologies that end up shaping the way we view the world," she says. "If our parents and society could feed us more enlightened ideology from childhood, it would have such an effect on how we grow up and see people."
Buy the album:
In North America: From Night to the Edge of Day. Other recordings available: Portals of Grace, Elysium for the Brave, Nine Heavens, Green Memories, Sunyata, Niyaz, In the Garden of Souls, Roseland featuring Tyler Bates and Azam Ali, Feast of Silence
In Europe: From Night to the Edge of Day. Other recordings available: Portals of Grace, Elysium for the Brave, Green Memories, Niyaz, Nine Heavens, In the Garden of Souls, Offerings
Author:
World Music Central News Department
World music news from the editors at World Music Central