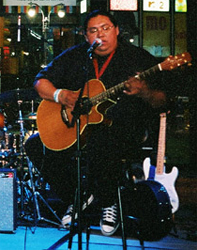 Aaron White has been entertaining audiences in all four directions of the Earth. A multifaceted artist, he can be found working on a soundtrack or opening young minds to music and stories of the Native people of the United States of America. Performing with a Symphony and playing to a large festival audience. Whether solo or with his band The Blue Stone Project, Aaron White is always finding new ways to express American Indian music in songwriting or instrumental form.
Born in Oakland, California, Aaron grew up on and off the Northern Ute reservation. He is of two Nations, the Dine of Northern Arizona (Blacksheep Clan) and The Northern Ute tribe Whiteriver band.
Performing has always been in the blood of this singer-songwriter and flute player. Music has taken him to many places like the Hawaiian Islands, Europe and Canada, and also across the United States.
Aaron White was nominated for a Grammy with his group Burning Sky for Best Native American album in 2003 and they also won a Native American Music Award for Group of the Year in 2004. He has also become a flute maker when he is not on the road or in the studio. This has led him to doing art shows around the country and entering juried shows with his work. From museums to festivals you will find Aaron White showcasing his talent in song or cultural performance and having a great time with the people who he meets along the way.
Popular or famous Aaron White music songs include Twilight, Taking My Time, Two-Hearted River, Tragic Folk, Now You're Gone, Old Muddy River, Deep Creek, Alaska, I'm feeling fine, Nine Below, Whisky & Gin, Employment Blues, and Sweet Wind.
Discography:
Burning Sky (Canyon Records, 1994)
Blood of the Land (Canyon Records, 1995)
Creation (Canyon Records, 1996)
Enter the Earth (Rykodisc, 1999)
Full Moon Session (Canyon Records, 1999 & 2004)
Spirits in the Sky (Canyon Records, 2002)
A Simple Man (Canyon Records, 2003)
Handprints of Our People (Canyon Records, 2011)
Blue Stone (Canyon Records, 2006)