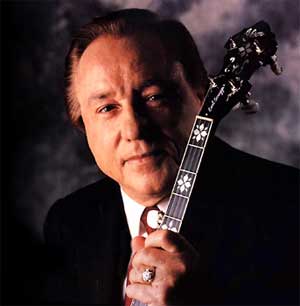 Earl Scruggs was born and grew up near Shelby, North Carolina in Cleveland County.
For many bluegrass began when Earl Scruggs joined Bill Monroe's band with his blazingly fast three-fingered picking banjo style. It quickly became and remains the standard for the true bluegrass banjo sound.
Earl?s next endeavor, Flatt & Scruggs and the Foggy Mountain Boys, continued his fame and legend through work in films and television. From 1948 until 1969 Flatt & Scruggs and the Foggy Mountain Boys dominated the bluegrass field due to their residency on the Grand Ole Opry in Nashville yet that renown was dwarfed by their huge success in 1962.
In 1962 they recorded the theme song for The Beverly Hillbillies leading bluegrass into mainstream American culture. That popular TV show led Flatt & Scruggs' long-time signature tune, Foggy Mountain Breakdown, to be chosen as the background music for the 1967 film Bonnie and Clyde. In 1969 Earl sought a more contemporary sound and split with Lester to make music with his sons and other musicians in Nashville.
Though it's been more than three decades since they broke up the music of Flatt & Scruggs and the Foggy Mountain Boys continues to define the bluegrass sound. The band was elected to the Country Music Hall of Fame in 1985. Earl Scruggs received the National Heritage Award in 1989, the highest honor given by the National Endowment for the Arts to folk and traditional artists.
www.earlscruggs.com