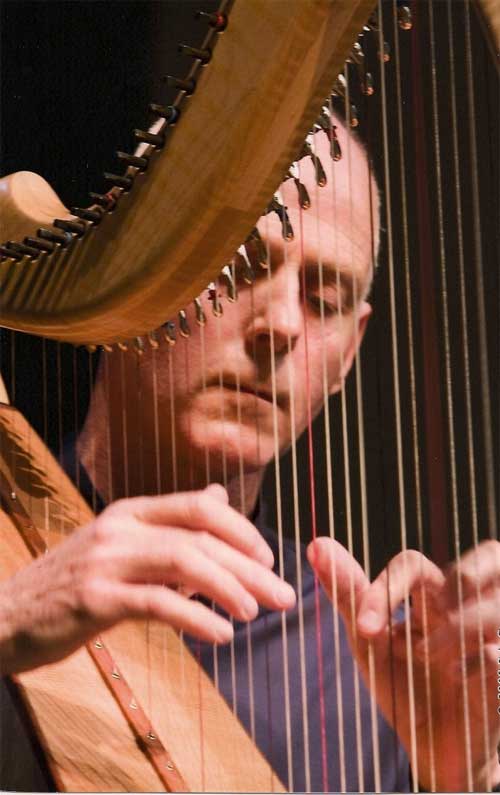 Billy Jackson has been a major figure in traditional Scottish music for many years, and was a founding member of the influential folk group, Ossian. A native of Glasgow, Billy often visited Donegal in his youth and his music reflects this mixture of Scottish and Irish influences.
In addition to his reputation as a harper, Billy has made quite a name for himself as a recording artist and composer, with a dozen albums to his credit. In 1990, he formed The Scottish Orchestra of New Music, combining classical and traditional musicians to perform his compositions. He premiered his major commission for the Scottish Chamber Orchestra, A Scottish Island, and appeared as a featured soloist on uilleann pipes with the Royal Scottish National Orchestra.
In 1999, his song, Land of Light was selected as the winner of The Glasgow Herald's year-long Song For Scotland competition to select a 'new anthem for a new era in Scotland.' Billy is also a trained music therapist specializing in work with autistic children.
Discography:
The Wellpark Suite (Iona, 1985)
Heart Music (Iona, 1987)
St Mungo: A Celtic Suite For Glasgow (Iona, 1990)
Celtic Tranquility (1992)
Inchcolm (1995; reissued 2007)
The Ancient Harp of Scotland (1998)
A Scottish Island (Linn Records, 1998)
Celtic Experience vol. 1: Haunting Themes From Scotland and Ireland (Linn Records, 1997)
Celtic Experience vol. 2: Haunting Themes From Scotland and Ireland (Linn Records, 1998)
Celtic Experience vol. 3: Haunting Themes From Scotland and Ireland (Linn Records, 1999)
Celtic Experience: Haunting Themes From Scotland and Ireland (Linn Records, 2000), boxed set of the three Celtic Experience albums
The Celtic Suites (1999), a compilation of The Wellpark Suite and St. Mungo
Land of Light (1999)
Notes From A Hebridean Island , with Mackenzie (2001)
Duan Àlbanach (2003)
The New Harp (2008)
Music From Ireland and Scotland , with Gráinne Hambly (Linn Records, 2009)
With Ossian
Ossian (Springthyme Records, 1977)
St. Kilda Wedding (Iona, 1978)
Seal Song (Iona, Iona, 1980)
Dove Across the Water (1981)
Borders (Iona, 1983)
Light on a Distant Shore (Iona, 1986)
The Best of Ossian (Iona, 1993)
The Carrying Stream (1997)