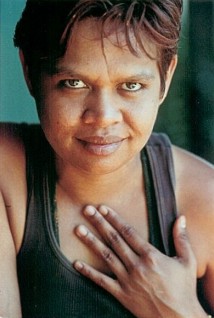 Kerrianne Cox is one of Australia's premier Indigenous artists. Repeatedly nominated for both state and national accolades, Kerrianne Cox has the voice of a seasoned professional and a set of original songs to match. Simply playing a 6-string guitar, the beauty and depth of her lyrics move audiences everywhere.
Kerrianne's songs are a mix of country/folk/blues and her vocal technique has been compared to such greats as Billie Holiday, Joan Armatrading and Tracy Chapman. Kerrianne pens the majority of her own songs. The lyrics for her music emerge from her own life experiences, including love, family life and her strong connection to the land. Kerriannes heritage is an inspiration to her songs and she states, "I want to touch people with my songs, not just as an indigenous person, but as a human being. "
Kerrianne Cox has steadily built a national and international profile. 2000 saw her successfully touring the USA and New Caledonia, and being invited back to the Pacific region; 2001 is showcasing in Canada and returning to the USA on invitation until October. Kerrianne has played nearly every major Folk Festival in Australia, including Port Fairy, Woodford, the National as well as The Sydney Mardi Gras. Kerrianne won 'The Next Big Thing' competition, having competed against nearly every unsigned act in the State of Western Australia; and has been nominated every year, since her emergence in 1996, for The Deadly Awards (awarding excellence in Indigenous music and culture), only being pegged by platinum selling pop acts. That a solo singer/songwriter from the very isolated northwest region of Australia can take such an award from seasoned bands gigging in the city areas proves the professionalism and presence that this young woman exudes on stage.
Kerrianne Cox recorded her second album at her home in Broome, Western Australia. Chris Dickie (Morrissey, The Pogues, Ricki Lee Jones) produced the album, which has a beautiful natural acoustic feel to it, making it very different from the smooth, polished sound of her first album 'Just Wanna Move'. Talent from all over Australia flew to isolated Broome for this very special project, which should be formally released later in 2001 under the title 'Openings'.
Kerrianne regularly conducts workshops teaching songwriting and tradition. She has a relaxed and open attitude to which people naturally gravitate towards, and has great success involving healing workshops with women and youth everywhere. Her debut album Just Wanna Move was independently released in 1999 in Australia.
Discography
Just Wanna Move (1999)
Opening (2001)
Return to Country (2006)