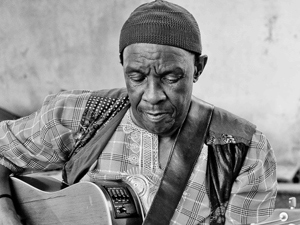 Madala Kunene was born in 1951 in Cato Manor, moving to the township of Kwa-Mashu, near Durban after his family were evicted by the Apartheid government. Despite being born into a family of eminent and fervent academics he refused to spend so much as a day at school- even if it meant taking regular beatings because of it. This signaled Madala's single-minded and uniquely unconventional nature.
He started busking on Durban's beachfront at the age of 7, making his first guitar out of a cooking oil tin and fish gut for the strings! He soon became a popular performer in the townships. "I started music when I was a boy at Umkhubane (Cato Manor) at Jippercoat Station. We were called 'Amanikabheni,' a name given to us because we would perform in open spaces and then be given pennies by the thrilled crowds".
As a player for the African Wanderers FC, the teenage Madala was torn between his love of football and music, playing guitar at home after matches. In 1963, he bought his first real guitar and began to imitate Western music such as the Beatles. But Madala soon tired of imitating others and feeling dissatisfied and restless, decided to start playing his own music giving voice to the creativity that was welling up within him.
It was friends such as the great Sandile Shange, who encouraged him to take his guitar playing much more seriously. He followed their wise advice and in the early seventies started to perform as a professional artist in the Durban townships, playing in variety of styles.In very little time he had become the hottest guitar player and was discovered by Sipho Gumede.
Madala went to work in Johannesburg, where he considered himself privileged to share the stage with such luminaries as Doc Mthalane and his band, Songamasu, Shor Philips, Mankunku Hgozi and Busi Mhlongo. However, in the mid – 1970's, violence erupted in rural areas. This led to Madala returning home to protect his family after their house was burned down. Deprived of the chance to tour internationally, Madala continued to develop his own musical style while playing low-key gigs in the townships during the mid-eighties.
Encouraged by his friend Duze Mahlobo, he revived the 'Madalaine' style of guitar playing, combining blues &soul with African folk, and developing the trance – like quality of his Zulu folk singing. A guitarist on great albums by the likes of Sipho Gumede and Mandla Masuka, Madala's career has been, in his own words, "both exciting and rough", since he went solo in 1988. One such example Madala remembers: "I was rehearsing at a friend's house and the police came in and said we were making noise. They took all our instruments and smashed them. It took me a long time to find the money to get another guitar."
Despite the hardship he persevered and in 1990 teamed up with the dance troupe, Woza Afrika, where he wrote, sang and played guitar. In 1993 B+W (later M.E.L.T. 2000) gave him his recording break: he was on Freedom Countdown produced by Sipho Gumede.
In 1994 Madala took part in the Outernational Meltdown jams with Airto Moreira that culminated in his part of the Healer's Brew (BW077). His traditionally deep-rooted guitar style is captured on the first in the bootleg net series, -King of the Zulu, Live Vol. 1. (BNETCD001).
Of contemporary music Madala says, "I like the fact that I am doing African music, even though here at home promoters are not that interested in traditional music. They are only into commercial music."
Despite the pressures to copy Western music Madala refused to give in to commercial whim, "I was tired of trying to sound like other people. I wanted to be myself, to play the kind of music that came from within me." So he draws his influences from Zulu folklore and culture. With wit and clarity he relates the traditional Zulu folk tales we would otherwise forget.
A proud Zulu and advocate of traditional Zulu music and folklore-Madala's first solo album for M.E.L.T. 2000 was Kon'ko Man (BW058) meaning 'the Strong Man'. Made in 1995 and produced by Pops Mohammed and Airto Moreira, this album features many of his old friends, including Londoner Zena Edwards, Sipho Gumede, Mabi Thobejane, Busi Mhlongo, Mandla Mgabhi and Mandla Masuk, Jose Neto and Flora Purim, to mention but a few.
Following this debut solo album, he joined forces with Swiss guitarist Max Lasser for the album 'Madamax'. There was an incredible creative affinity between the two and through the development of this project they made a profound musical connection between Africa and Europe. As Madala says, "I first met Max at a studio in Johannesburg in 1995, because of a session that Robert had organized. We sat together the whole night. I just took the guitar and played and everybody sang along." It was not yet obvious something big was going to come of it, "I was not expecting that this music would be released on CD. We were just playing together. We finished the session, and since that day we have been great friends, as if we'd known each other 20 years. I liked his heart – he was a fine man."
After their initial sessions in South Africa, Max invited Madala to Switzerland to continue arranging the music, and to write some more songs. This collaboration was such a buzz that Madala and Max decided to take their unique sound on tour, a resounding success that also highlighted the unique vocal talents of Lungiswa Plaatjies. This tour has been a resounding success throughout Europe both in 1999 and 2000. Performing to audiences around the world, and sharing the stage with the likes of the inimitable Busi Mhlongo, Madala's repertoire includes playing for Nelson Mandela at the show held in honour of his release. When they met again at another benefit show in Durban Mandela smiled and said, "It's you again. I wish you could play for me everywhere I go".
Madala Kunene performs to audiences around the world and often shares the stage with great names such as the inimitable -Busi Mhlongo. This repertoire includes playing for Nelson Mandela at the show held in honor of his release.
Madala has developed a completely original style of playing guitar based on ancient divination music and most of his inspiration comes to him in dreams. He explains the influence his poetic dreams have on his song writing relating the inspiration for 'Abangoma' on 'K'onko Man'. "You know when you get a fright in your sleep and you body shakes and then you suddenly wake up? That's what happened with Abangoma. I must have been inspired by my ancestors because I just got up, picked up my guitar and wrote the entire song". Madala is profoundly connected to his ancestry, "It was my ancestors that didn't want me to go to school. They gave me a talent so that instead of school, I played my music".
It is somewhat ironic that Madala is now a teacher himself, sharing his musical skills with children and juvenile offenders in KwaZulu-Natal.Known as the "King of Zulu guitar", Kunene is renowned for the transcendental and ethereal quality of his songs. Whilst performing he goes into a deep trance, and as he himself says, "When I am playing my brain is not there. Each time I go to a place I've never been before."
Discography:
Healer's Brew (B&W Music, 1995)
King Of The Zulu Guitar Live Vol 1 (Bootleg.Net, 1996)
Kon'Ko Man (B&W Music, 1996)
Madamax (Impact Music, 1998)
Uxolo ‎(M.E.L.T. 2000, 2005)
1959 (2017)