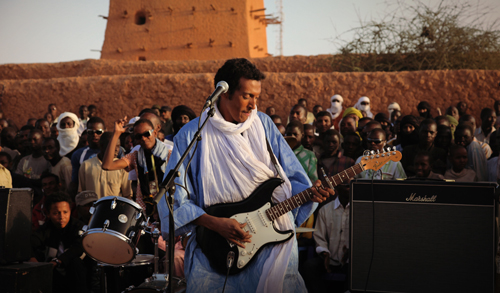 Goumour Almoctar, beter known as Bombino, was born on January 1, 1980, in Tidene, Niger, a settlement of nomadic Tuaregs located about 80 kilometers to the northeast of Agadez.
Bombino spent his early childhood between the encampment and the town of Agadez, the largest city in northern Niger and historically a part of the ancient Sahara trade routes connecting North Africa and the Mediterranean with West Africa.
Bombino attended a French-Arabic school that taught both French and classic Arabic.
After the first Tuareg rebellion in Mali and Niger, Bombino fled with his father and grandmother to stay with near relatives in Algeria. One day, relatives arrived from the front lines of the rebellion, carrying with them two guitars that they left behind for a few months. Bombino began to teach himself to play the guitars.
Bombino and his family decided to move back to Agadez. During a trip to Niamey, Niger for medical treatment, Bombino met with his uncle Rissa Ixa, a famous Tuareg painter, who gave him a guitar. After returning to Agadez, Bombino joined the Tuareg political party where he met the best guitarist of the party, a man named Haja Bebe. He received lessons, improving so fast that Haja Bebe invited him to join his band. It was during that time that Bombino acquired his nickname. As the youngest and smallest member of the band, the other members called him Bombino, a variation on the Italian word bambino for "little child."
Bombino got a role as an extra in the French film Imuhar: A Legend that was filmed in the nearby desert. After finishing his work on the film, Bombino settled into life as working musician, performing at political rallies, weddings, and other ceremonies.
He argued often with his father, who did not want his son to become a musician. To escape this problem, Bombino decided to travel to Algeria and Libya in 1996. In Libya, he made friends with some local musicians, and they spent time watching videos of Jimi Hendrix, Mark Knopfler of Dire Straits and others in an effort to master their skills. Bombino was rapidly becoming an accomplished guitarist and was in high demand as a backing musician. While working as a herder in the desert near Tripoli, Libya, Bombino spent many hours alone watching the animals and practicing his guitar.
Eventually, Bombino decided to return to Niger, where he continued to play with various local bands.  As his legend grew, a Spanish documentary film crew helped Bombino record his first album, which became a local hit on Agadez radio. The success of the album validated Bombino's choice to make a career out of music, and he began playing regularly for tourists and locals alike.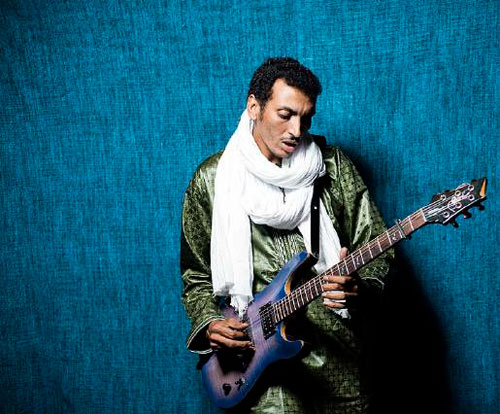 In 2006, Bombino traveled to California with the band Tidawt for a tour organized by a non-profit organization. During the trip, he recorded a desert blues version of the Rolling Stones classic "Hey Negrita" together with Stones' members Keith Richards and Charlie Watts. The track appears on the 2008 album led by Rolling Stones saxophonist Tim Riese, titled Stone's World: The Rolling Stones Project Volume 2.
In 2007, the second Tuareg rebellion began, and the government countermeasures were powerful and arbitrary. Many civilians were killed and farms and livestock were devastated in an effort to crush the rebellion. The government's tactics only served to incite the Tuareg community, and many around Bombino joined the rebellion. Government forces killed two of Bombino's musicians, so he fled in exile to Burkina Faso along with many of his fellow Tuaregs.
In 2009, he met filmmaker Ron Wyman who had heard a cassette of Bombino's music while traveling near Agadez. Wyman was enchanted by Bombino's music and spent a year seeking him out, eventually tracking him down to Wagadugu, Burkina Faso, where Bombino was living in exile.  While there, Wyman decided to feature Bombino in a documentary he was filming about the Tuareg.  Later that year, he took Bombino to Cambridge, Massachusetts to begin recording the album Agadez in his home studio.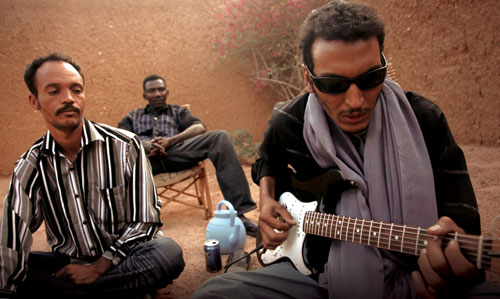 On April 2, 2013, Bombino made his Nonesuch Records debut with the release of the album Nomad. Nomad debuted at #1 on the Billboard World Music album chart and earned enthusiastic reviews.
Bombino traveled to Woodstock, New York in late 2015 to record Azel (2015). There were a few remarkable innovations on this album. The first is the introduction of a new style Bombino is pioneering that he warmly calls 'Tuareggae' – a mix of Tuareg blues/rock with reggae. Another is the first-ever use of Western vocal harmonies in recorded Tuareg music.
In November 2017, Bombino and his group traveled to Casablanca, Morocco to record Deran (Partisan Records). Bombino wished to return to Africa to record and to step away from celebrity producers to create the most authentic expression of his music possible. Deran benefited from deeper involvement from his band – Youba Dia (bass), Illias Mohamed (rhythm guitar) and Corey Wilhelm (drums), and Mohamed Araki Eltayeb (keys) – in arrangement and other creative decisions.
Bombino is an advocate for teaching children the Tuareg language of Tamashek, the Berber language, as well as French and Arabic, all of which he speaks fluently. "We fought for our rights," says Bombino, "but we have seen that guns are not the solution. We need to change our system. Our children must go to school and learn about their Tuareg identity."
Discography:
Agamgam 2004 (Reaktion, 2010)
Agadez (Cumbancha Records, 2011)
Nomad (Nonesuch, 2013)
Azel (Partisan Records, 2015)
Live At The Belly Up ‎(Belly Up Live, 2016)
Deran (Partisan Records, 2018)