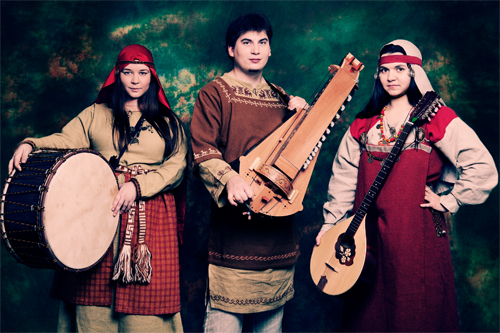 The Ensemble of Slavonic Ethnic Music Vedan Kolod (meaning Prophetic tree) was created in February 2005 in Siberia, Russia, by Tatyana Naryshkina. In July of 2005 Vedan Kolod won the prize as the best Russian folk band in the International World Music Festival Ustuu-Huree.
In the summer of 2007 at the biggest Russian International Ethnic festival Vedan Kolod was the best in the Nomination Ethno-Experiment.
Vedan Kolod composes its own material, but it is based on recent research and analysis carried out by archaeologists and folklore specialists, interpreting events in ancient, pagan Russia before the coming of Christians coming. Vedan Kolod shows the culture of original Russian traditions and songs.
During its history, Vedan Kolod had revived numerous almost forgotten Russian folk instruments: gusli, ocarina, Slavonic drums, Scythian horn, sharkuncy and others, – restored, mastered and reconstructed by musical master Valerii Naryshkin. All these ancient kinds of instruments are used actually in a program of the Ensemble, as well as a low throat style of singing which existed in Ancient Russia. All songs are played without any electronic processing, just live.
Members: Tatyana Naryshkina – group leader. Plays vocal, flutes, Slavonic drums, ocarina, fuyara, vargan and others; Valerii Naryshkin – musical instrument maker, on vocals, two kinds of gusli, Scythian horn, ocarina, Slavonic drums, vargan, zhaleika, Slavonic bagpipe, fuyara, gudok and others; Daryana Antipova – Art-manager, on vocal, Slavonic big and small drums, fuyara, sharkuncy; and Polina Lisitsa – Slavonic small drum, vocal, lozhki, sharkuncy, flutes, vargan
Discography:
Plemena – Tribes (2005)
Tanec leshih – The dance of the wood spirits ( Sketis Music , 2007 )
Волчья Тропа – Wolf Trail ‎( Slavic Sunrise, 2008)
У Кривой Дороги ‎- At Curve Road (Crossroads Records, 2010)
Слово О Полку Игореве – Word About the Regiment of Igor ‎(2011)
Site of ancient settlement ‎( Slavic Sunrise , 2014)