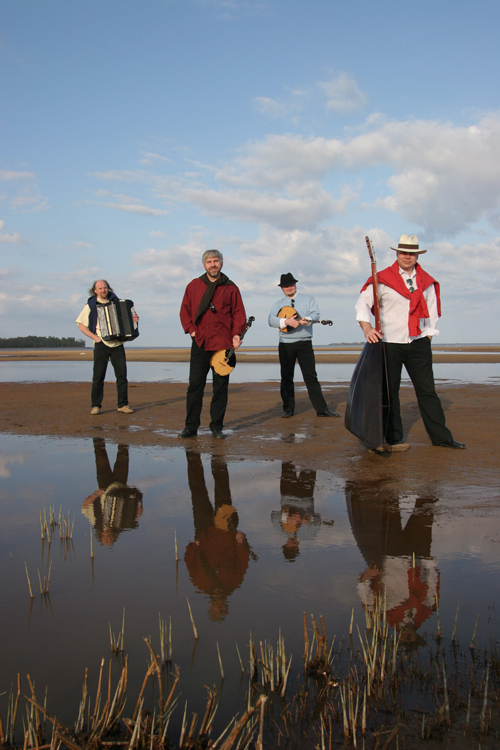 The Terem Quartet is one of the leading proponents of "new Russian folk music" on the international music scene today. The Terem Quartet was founded more than 13 years ago, when the participants were still music students in St. Petersburg. Mischa Dziudze explains the choice of the ensemble's name: "Originally the word terem describes a loft, and therefore the place in which virgins used to live in the house before their marriage. Today, it is generally used to describe a pretty Russian-style house, but also," he adds, "a wonderful place in which many different animals live in peace together, as in a Russian fairy-tale world."
The group was already well known in Russia when Peter Gabriel discovered them in 1991 and immediately brought them into the recording studio. The Terem Quartet's resulting debut album was released in 1992 on Gabriel's Real World label and led to the group's international breakthrough and popularity. After the great success of this first album, the Terem Quartet has had no shortage of invitations to play beyond Russian borders. They performed at the Summer Olympic Games in Barcelona in 1992, at the anniversary of German reunification in 1992, and have even been invited to the famous Venice Carnival. In January 1994, the musicians celebrated their thousandth concert together in Russia and took the opportunity to record their second album.
After making a studio album and a live production, it was decided that the Terem Quartet's third album would be a concert performance recorded with the technical standards of a studio session. The venerable Teatro Civico in Tortona in Italy proved to be the ideal place for such a project, and No, Russia Cannot Be Perceived by Wit was recorded there on October 2, 1998.
On No, Russia Cannot Be Perceived by Wit, Igor Ponomarenko (alto-domra), Andrei Kostantinov (soprano-domra), Andrei Smirnov (bayan-accordion) and Mikhail Dziudze (bass-balalaika) present themselves in top form, both in terms of playing and in high spirits. The album title gives an idea of their general attitude, while wonderful track titles such as "Sounds Like A Twist," "Must Be A Foxtrot," and "Positively A Waltz" inform the listener that this is a quirky, non- traditional folk album. In addition to their own fascinating compositions, the Terem Quartet also present original interpretations of selected pieces of classical music (including an exquisite adaptation of Rossini's "Barber of Seville").
Discography:
Terem quartet (Melody, 1989)
Terem (Real World Records, 1992)
Classical (Real World Records, 1994)
St. Petersburg (Radio Bremen, 1994)
1000th Concert. Live (Terem Quartet, 1994)
Dog's Waltz (Manchester Files, 1999)
No, Russia Cannot Be Perceived By Wit… (Terem Quartet, 1999)
Russian Passion (Manchester Files, 2002)
Diddú Og Terem (Sögur Útgáfa, 2008)