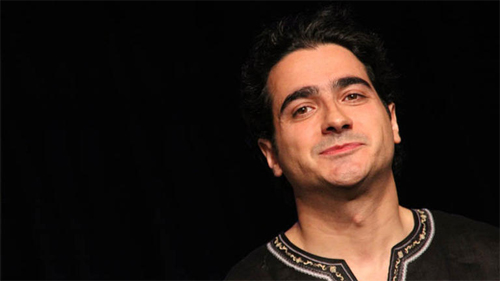 Homayoun Shajarian, born in 1975, is the son of master vocalist Mohammad Reza Shajarian. He began playing tombak (goblet drum) at the age of five and later attended the Tehran Conservatory of Music.
As well as tombak, Homayoun plays the kamancheh and studies the vocal tradition with his father. Since 1991 he has played in many ensembles accompanying his father on tombak in concerts in Europe, Iran and North America.
As a disciple of his father, Homayoun has developed many similar vocal qualities and will continue a new generation of the great Persian vocal tradition.
Discography:
Without You ‎(World Village, 2002)
Masters Of Persian Music – Faryad ‎(World Village, 2003)
Na Shakiba ‎(Ryan Production, 2004)
Mayeh-ye Dashti / Mayeh-ye Isfahan ‎(Celestial Harmonies, 2009)
Simorq (Celestial Harmonies, 2013)
Emshab Kenar-e Ghazalhaye Man Bekhab ‎(Barbad Music, 2017)
Nasim-e vasl
Showq-e doost
Naghsh-e khiyal
Ba setareh ha
Gheyzhaak-e kouli
Khorshid-e arezoo
Ab, nan, Avaz
Shab-e jodayi
Showq nameh
Ey jan-e jan bi man maro
Beyond Any Form
Neither Angel Nor Devil
The Occult And The Intoxicated – Mastoor o Mast
The Lords Of Secrets – Khodavandane Asrar