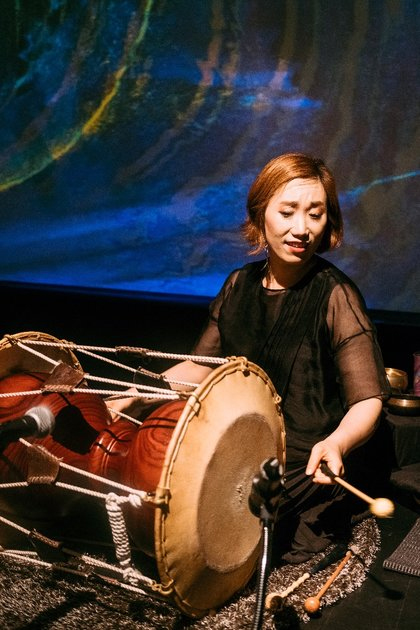 Korean percussionist Kim So Ra has played the hourglass-shaped, two-headed drum known as janggu since she was a child. In high school she became a leading prize-winner at folk festivals and cultural competitions, going on to eventually to achieve her Master of Korean Music degree in 2012. Since then she has been taking groundbreaking steps to modernize perceptions within traditional Korean music.
Her 2013 visit to Chicago to collaborate with musicians of diverse backgrounds was fundamental. She named the project 'The Modernization and Globalization of the Janggu', returning the following year for the Janggu Rhythm Connection project.
In Korea, she formed the first all-female traditional arts performance group, Norikkot, as well as the electronic/ traditional fusion band, nuMori. In her performances, she explores new rhythmic concepts with traditional Korean instruments.
Kim was selected as the only Korean solo percussionist to perform at the official showcase of the World Music Expo, WOMEX 2018, and the 2018 Mundial Montreal World Music Summit.