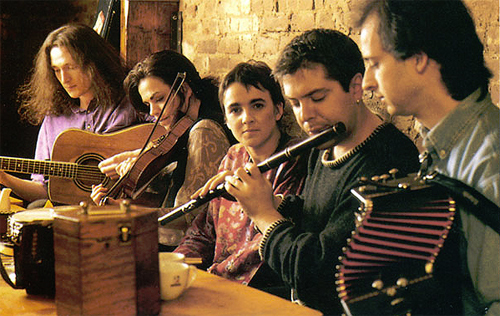 Solas is the most important Irish music band based in the United States. The group plays fiery instrumental medleys for which they've become famous as well as evocative songs.
In September 2005 Solas performed a very special 1th anniversary concert in Philadelphia proving that even after a decade they were still as fresh and edgy as ever. 2006's live CD release Reunion: A Decade of Solas vividly captured what many described as a once-in-a-lifetime show.
In 2008, Deirdre Scanlan replaced original vocalist Karan Casey, who left to pursue a solo career. From Nenagh County Tipperary Deirdre is an All-Ireland champion vocalist whose solo debut in 1999 Speak Softly confirmed her status as one of Ireland's most accomplished singers.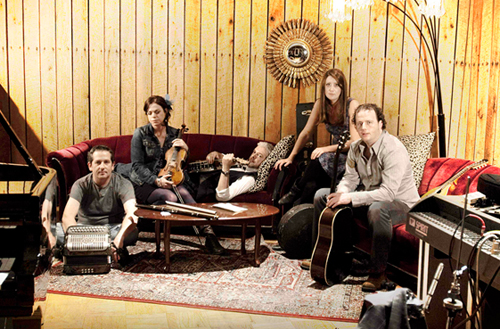 About Solas' founders:
Born in Hatboro, Pennsylvania, Seamus Egan won All-Ireland championships on flute, tin whistle, mandolin and banjo, and wrote a score for the Irish stage show Dancing on Dangerous Ground.
New York fiddler Winifred Horan is a graduate of the New England Conservatory of Music and was a member of both Cherish the Ladies and the Sharon Shannon Band.
Dublin guitarist and singer John Doyle performed previously with Susan McKeown and the Chanting House and has recorded with Eileen Ivers, James Keane and Liz Carroll.
From Callan County, Kilkenny, Mick McAuley plays button accordion concertina low whistle and also sings for Solas whom he joined in 1997 after touring and recording with Niamh Parsons and Ron Kavana.
In 2010, vocalist Niamh Varian-Barry from Cork replaced Mairead Phelan as lead singer of the band. In 2013, Niamh was replaced by Noriana Kennedy.
Discography:
Solas (Shanachie, 1996)
Sunny Spells and Scattered Showers (1997)
The Words That Remain (1998)
The Hour Before Dawn (2000)
The Edge of Silence (2002)
Another Day (2003)
Waiting for an Echo (2005)
Reunion: A Decade of Solas (2006)
For Love and Laughter (2008)
The Turning Tide (2010)
Shamrock City (2013)
All These Years (2016)