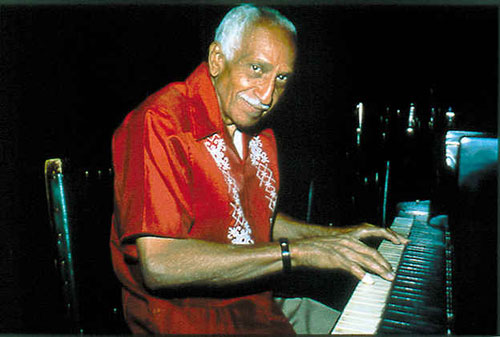 A maestro musician whose piano playing in the 1940's helped invent the pre-Castro Cuban sound as we know it today, Rubén González had in recent years virtually stopped making music. He suffers from arthritis, and no longer owns a piano.
Born in Santa Clara in 1919, González was one of a trio of pianists who developed the mambo and embraced modern jazz harmonies in the 1940s in his native Cuba. González also developed his own very distinctive style during this fruitful period of music in Cuba. In 1996 González was invited to come out of retirement to play first with the Afro Cuban All Stars, and then with Ry Cooder on the Buena Vista Social Club album. The very next year, González released his first solo album at the ripe age of 77, after more than half a century in music.
Introducing Rubén González was released in September 1997 to widespread critical acclaim, and González has since been pictured in both TIME Magazine and The New York Times.
After working with González on the Buena Vista Social Club project, Ry Cooder proclaimed González as "the greatest piano soloist I have ever heard in my life. He's like a Cuban cross between Thelonius Monk and Felix the Cat."
He died in December of 2003.
Discography
Rubén González (Areito, 1975)
Buena Vista Social Club (World Circuit, 1997)
Introducing…Rubén González (World Circuit, 1997)
A Toda Cuba le Gusta, with Afro-Cuban All Stars (World Circuit, 1997)
Chanchullo (World Circuit, 2000)
Todo Sentimiento (Yemayá Records, 2004)
Buena Vista Social Club at Carnegie Hall (World Circuit, 2008)
Lost and Found, with Buena Vista Social Club (World Circuit, 2015)