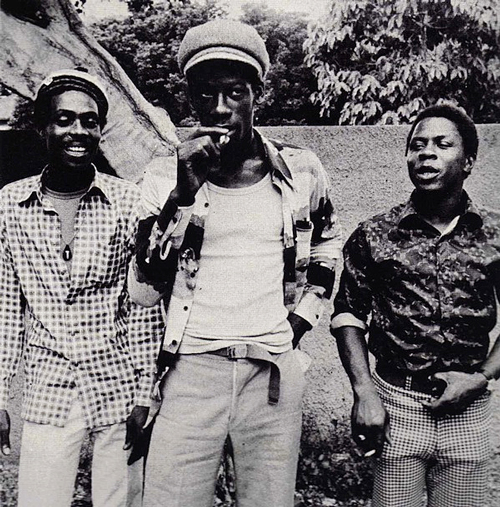 The Heptones are one of reggae's legendary groups, led by the charismatic Leroy Sibbles along with Earl Morgan and Barry Llewellyn. They became huge hitmakers while at the top Jamaican label, Studio One. After recording numerous rock steady anthems, they were also one of the few groups to make a successful transition from rock steady to reggae.
Deep in the Roots, released in 2004 was recorded at Kingston's famed Channel One Studio by top roots producer Niney the Observer, with backing by the Soul Syndicate band. Features previously-unreleased extended mixes, plus rare tracks.
Co-founder Barry Llewellyn died on November 23, 2011, in Kingston, Jamaica.
Discography:
The Heptones (Studio One, 1967)
On Top (Studio One, 1968)
Black is Black (Studio One, 1970)
Freedom Line (Studio One, 1971)
Book of Rules (Jaywax, 1973)
Cool Rasta (Trojan Records, 1976)
Night Food (Island Records, 1976)
Party Time (Island Records, 977)
Better Days (Third World, 1978)
Good Life ( Greensleeves Records, 1979)
King Of My Town (Jackal Records, 1979)
Mr. Skabeana (Cha Cha Music, 1980)
One Step Ahead (Sonic Sounds, 1981)
On The Run (Shanachie, 1982)
Back on Top (Vista Sounds, 1983)
In A Dancehall Style (Vista Sounds, 1983)
Swing Low (Burning Sounds, 1985)
Changing Times (Moving Target, 1986)
A Place Called Love (Moving Target, 1987)
Sing Good Vibes (1988)
Mr. "T" (1991)
Observer's Style (1994)
Pressure! (Real Authentic Sound, 1995)
Rebel Love (2016)