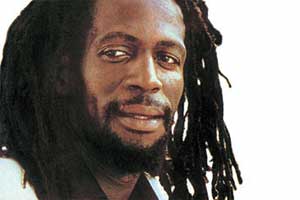 Gregory Isaacs ranked as one of the true superstars of reggae music, with a career that spanned three decades and legions of loyal fans worldwide. His humble upbringing began in Kingston, Jamaica where he was born in 1951.
Like many before him, he started his singing career in the early 1970s by working with a number of producers and entering various local talent competitions. His first records of notice were on Rupie Edwards' Success label.
To gain artistic freedom and financial control of his own work, Isaacs started his own African Museum label and shop in Kingston in 1973 with singer Errol Dunkley. In order to finance his label, he continued to work with other producers such as Winton "Niney The Observer" Holness, Gussie Clark, Lloyd Campbell, and Alvin "GG" Ranglin for the rest of the 1970s.
His early recordings were responsible for the development of his singing style, love ballads with his cool relaxed nasal style, as well as his ease with songs about social protest. By 1980, Gregory had become one of the top stars in the reggae world, touring the UK and US extensively.
He signed with Virgin Records' Frontline label and gained a considerable name for himself outside the reggae world. Isaacs continued recording singles on his African Museum label in Jamaica – ultimately those singles were gathered for the Virgin releases. His preeminence during this period was confirmed by the nickname of "Cool Ruler," given to him by critics and fans after the title of one his albums.
By the mid 1980s, he had a number of personal and financial problems and ended up in a Jamaican prison for a short time. After his release, he began work recording for scores for different producers, which included some of his best material for King Jammys, Bobby Digital, and Steely and Clevie.
His 1988 landmark album, Red Rose for Gregory, and the single "Rumors" brought him to worldwide prominence again. Since then he has recorded a number of albums, scores of singles, and has continued to tour extensively worldwide.
Over the years, Gregory Isaacs worked hard to keep his legendary status and reputation in the reggae business second to none.
The Artists Only! label released Gregory Isaacs – Live at Maritime Hall in conjunction with 2B1 label the fall of 1998 to a great response.
Turn Down the Lights (1999) was produced by the legendary Lloyd "King Jammys".
Come Take My Hand (2006) was produced by Emmanuel (Rude) Davies For Rude Productions. The 17-track set includes 14 vocal pieces and 3 bonus instrumental versions on CD, and 12 tracks on vinyl. Musicians on this album include Sly and Robbie, Carlton (Bubblers) Ogilvie, Earl (Broad Finger) Francis, Paul (Jazzwad) Yebuah, Jermaine (Ajang) Ford, to name a few.
Gregory Isaacs died October 25, 2010 in London, England, UK.